Basement Moisture
Damp basement problems can be eliminated with the right waterproofing & dehumidification techniques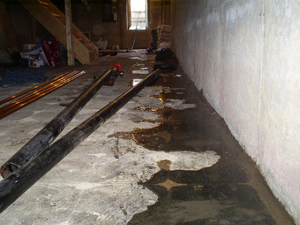 Does your house have a basement moisture problem? Many houses have issues because of moisture in basement walls and moisture in basement floors. Sometimes there is standing water that makes the basement unusable. In other cases, moisture from the soil is absorbed by the masonry foundation and then released into the basement air, creating high humidity conditions that attract mold and mildew.
Luckily, there are many different methods of basement moisture control. You don't have to put up with a wet basement, or even with a basement that's muggy enough to attract mold and mildew. But to turn this naturally damp space into a dry, comfortable environment, it's necessary to do the right things, the right way. Consider the following strategies for solving basement moisture problems.
Exterior drainage. Moving water away from the basement foundation is important. The home's gutter and downspout system should effectively direct roof runoff away from the foundation. If the house is located on a sloped lot, curtain drains may be necessary to carry water around the foundation.
Moisture barrier. This can take the form of a painted-on coating; a thin, plastic membrane; or even a thin layer of clay. The typical "damp-proofing" treatment applied to the exterior of a foundation wall is not a waterproofing treatment. It only limits the amount of soil moisture that is absorbed by the foundation. Because a foundation moisture barrier allows water pressure to buildup against foundation walls, it can actually increase water leakage in the basement wherever small gaps and cracks are found.
Interior French drain & sump pump system. This has proven to be the best method for keeping water out of the basement. Instead of allowing water pressure to push against the foundation, an interior drainage system relieves water pressure. Hidden drain lines installed inside the basement, at the juncture of the walls and floor, capture water and convey it to a sump pump. The pump automatically pumps water to the exterior, keeping the basement dry.
Basement dehumidification. Even with an effective waterproofing system, some basements still need dehumidification because of the moisture that comes through foundation walls and floors. The heavy-duty SaniDry™ dehumidifier from Basement Systems is designed specifically for high-moisture, low-temperature basement conditions. It will function more effectively and more economically than standard dehumidifiers.
Basement Systems, Inc. dealers offer effective solutions for eliminating basement moisture. Find out how you can get a dry, healthy basement. Call us or schedule an estimate online to meet with your local basement moisture experts!
Looking for a price? Get a no cost, no obligation free estimate.