FloodChek® Washing Machine Hoses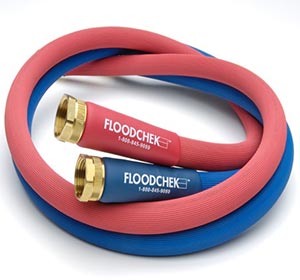 FloodChek® Hose Benefits
Brass fittings provide better performance and durability than steel fittings used on standard supply hoses.
Reinforced, leak-proof connections where fittings join rubber hose.
Extra-thick, high-quality rubber hose material easily withstands high water pressure.
The last hoses you'll need, no matter how many washing machines you own.
More Waterproofing Products:

FloodRing® Water Heater Protection

Downspout Extensions
Looking for product pricing?
FloodChek® is only available from a certified installer in your area. Contact us to request an inspection & get a free cost estimate to have it installed in your home.
A hose that's weak is going to leak. Old, lightweight supply hoses should be replaced with heavy-duty versions before they fail and cause major water damage.
Avoid a disastrous flood by upgrading to leak-proof water supply hoses
There are two types of plumbing leaks: slow drips that do little harm and major failures that often cause disastrous flooding. If the supply hoses for your washing machine are old and worn, the more severe leak is definitely a possibility.
It's easy to overlook the supply hoses for your washing machine. But ignoring old, worn hoses can have dire consequences, especially if you don't turn the water valves off when the washing machine isn't being used.
Standard, consumer-grade hoses can leak or even burst for a variety of reasons. Corroded fittings, worn gaskets and cracked, weakened rubber are common problems that lead to hose failure. If this happens when the house is empty, the leak could easily dump 650 gallons per hour into your basement or upstairs space.
To eliminate worries about burst washing machine hoses, all you have to do is replace your standard hoses with reinforced FloodChek® hoses from Basement Systems. All the materials and specifications for FloodChek® hoses are over-engineered. From the heavy-duty brass fittings to the thick, reinforced rubber hose material, FloodChek® hoses exceed their performance requirements by a huge margin. It's the safe, sure way to set up your washing machine. Basement Systems offers a variety of basement waterproofing solutions to keep your basement dry.
Prevent flooding with replacement washer hoses
Find a Basement Systems dealer in your area to have replacement water supply hoses installed. Our dealers offer free basement inspections and cost estimates. Get started today!
Our Basement Waterproofing Products
Looking for a price? Get a no cost, no obligation free estimate.