Mold Treatment for Basements & Crawl Spaces
High-quality solutions for a cleaner, mold-free basement
Learn how the Mold-X2 system can help prevent mold growth in your home.
Mold in your basement can develop in a variety of ways. High humidity and water leaking in create the perfect breeding ground for mold, and ultimately, this hazardous allergen can create aesthetic and respiratory ailments alike. Removing mold from your home is crucial for your family's health.
Basement Systems, Inc. has developed an innovate solution to swiftly treat the mold that may have grown in your basement or crawl space when we come to waterproof the space. Our technicians are dedicated to keeping your basement clean and making it more enjoyable to use, and by including mold treatment with our other services, we can do just that.
If you're looking to waterproof your basement and are concerned about basement mold, contact your local Basement Systems dealer today for a free estimate!
Before and after mold treatment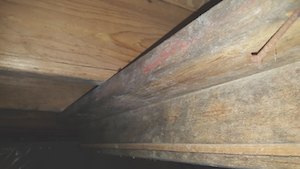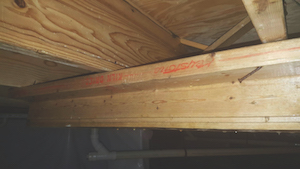 Remove mold as a part of your basement waterproofing project
Basement Systems, Inc. wants to give customers the option to get rid of mold when they choose to make their basement dry. While other contractors might ignore the presence of mold if they don't know how to handle it, we don't want to leave you with this hassle.
If you do have an extensive mold problem, you may need to seek out a mold specialist - but our contractors will provide you with all of the information you need when they visit your home. The top priority of all of our dealers is customer well-being, so you can rest assured that your mold problem will be handled one way or another.
Mold-X2: two products for treating mold
Mold-X2 Botanical features
Antimicrobial
Fungicide
Cleaner and deodorizer
All-natural formula
We offer two types of Mold-X2 that will benefit your basement depending on the aggressiveness and amount of mold present. Our Mold-X2 Stain Remover cleans contaminated surfaces, including wood or masonry, in just 20 seconds - it's like magic!
In order to prevent mold from growing back after using this product, the basement space must be kept dry and without humidity. This is why we offer it in tandem with our basement waterproofing services.
The other part of Mold-X2 is our Botanical product. Mold-X2 Botanical will help prevent mold from recurring on these types of building services. We recommend an application of our Stain Remover followed by our Botanical product to help make mold stay away.
Don't let your basement or crawl space suffer mold
The key to a healthy home is to keep it mold free, and Mold-X2 by Basement Systems, Inc. is just one way that we can help you accomplish this goal. Contact your local dealer today and discover all of the ways we are committed to transforming your basement space!
Looking for a price? Get a no cost, no obligation free estimate.