WaterWatch® Sump Pump Alarm System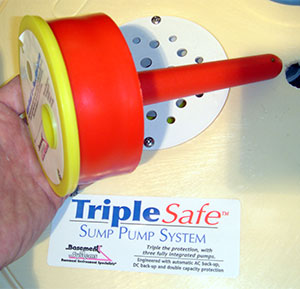 Extra Protection
The extension on this sump pump WaterWatch® alarm enables the device to detect abnormally high water levels in the sump pump liner.
Other waterproofing products:

FloodRing®
Get an early alert to prevent a basement or crawl space flood
Looking for product pricing?
WaterWatch® is only available from a certified installer in your area. Contact us to request an inspection & get a free cost estimate to have it installed in your home.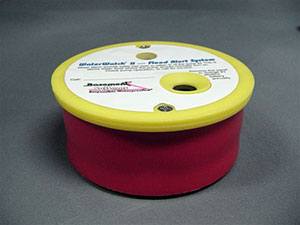 Floor monitor. Use a floor model WaterWatch® alarm to sound an early alert if there's a plumbing leak or any amount of water on the basement floor.
A WaterWatch® alarm is designed to sound off like a smoke detector when water gets where it doesn't belong. Powered by a standard battery, a WaterWatch® alarm will provide an early alert that can help you avert a damaging flood in your basement or crawl space.
Sump pump & floor models
Two types of WaterWatch® alarms are available from your Basement Systems Dealer. A sump pump WaterWatch® alarm is included with any new sump pump system that your dealer installs. This specialized alarm rests on top of the airtight sump pump cover, and has a probe that extends down into the sump liner. If water level in liner rises above the level where pumping normally begins, the WaterWatch® alarm will sound.
Your sump pump WaterWatch® alarm prompts action to correct a sump pump malfunction. The power supply to your sump pump may have been interrupted by a tripped circuit breaker or a downed power line. Pumping can also be compromised if an intake port is blocked with sediment or a large object. Whatever the reason, your WaterWatch® alarm improves your chances of avoiding a basement flood.
For additional flood protection, you can also utilize a floor-type WaterWatch® alarm that's designed to sit on your basement floor. When positioned next to a water heater, water tank or clothes washing machine, this alarm provides an instant alert if there's a plumbing leak or overflow. These sump pump features are designed to keep your sump pump functioning in the best condition it can, keeping your basement dry!
Get started with a free installation quote
Contact Basement Systems for a Free Estimate for any of our basement waterproofing products.
Our Basement Waterproofing Products
Looking for a price? Get a no cost, no obligation free estimate.