Zoeller Sump Pump Systems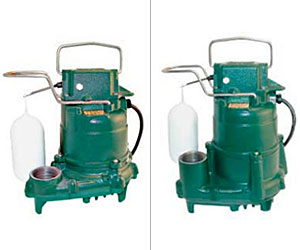 Dynamic Duo
The two main Zoeller pumps used in our sump pump systems are the 1/3HP model 53 (left) and the 1/2HP model 98 (right).
Other basement waterproofing products

Sump Pump Systems

Basement Dehumidifier & Air Cleaner
Looking for product pricing?
Zoeller Sump Pump Systems are only available from a certified installer in your area. Contact us to request an inspection & get a free cost estimate to have it installed in your home.
Reliability, durability and heavy-duty performance with Zoeller pumps
A sump pump is the heart of a basement waterproofing system. When the water level in your sump pit rises, your sump pump must come on automatically and eject the water to the exterior. If your sump pump can't handle water volume and run time requirements, your basement is likely to flood.
Basement Systems uses Zoeller pumps in our sump pump systems because these pumps outperform other pumps in all important categories: pumping volume, build quality, durability, clog resistance, quiet operation and float valve reliability.
Inexpensive sump pumps are built using light-gauge sheet metal and plastic for housings and other structural parts. These materials don't react well to the heat and vibration generated by a hard-working motor. As a result, parts are much more likely to loosen, deform and misalign over time, shortening pump life. Our Zoeller pumps don't suffer from these maladies, so you can expect years of trouble-free performance. For a free estimate on sump pump parts and installation, we are a certified contractor who would be happy to help you!
Zoeller Pump Benefits
Cast iron housings perform much better than plastic & sheet metal housings at heat dissipation and vibration dampening.
Epoxy coating provides excellent corrosion resistance.
Permanently lubricated, heavy-duty bearings can handle long run times with no problem.
High-volume pumping capability: 2600 gal./hr. for model 53; 3600 gal./hr. for model 98.
Highly clog resistant. Innovative impeller design facilitates pumping of up to ½-in.-dia. solids.
Mechanical, linear-motion float switch will not snag or jam like "ball-on-wire" float switches.
Every pump is factory tested before shipment.
Rubber couplings on discharge line help reduce pumping noise.
Take a closer look.
Watch our videos for the inside story on what makes Zoeller pumps run longer and stronger.
Call for a Free Estimate
Don't risk a basement flood with a subpar sump pump. Schedule a free waterproofing inspection and sump pump estimate.
Our Basement Waterproofing Products
Looking for a price? Get a no cost, no obligation free estimate.