The Best Air Purifier in the World for Basements
Do you suffer from allergies? Combat allergies with the Aspen Air Purifier today!
Proven relief from your allergies and asthma with the Aspen
There are a variety of pollutants lingering in your basement that can lead to asthma, allergies, and elevated susceptibility to long-term illness. Are you looking to minimize the harmful impact of pollutants such as smoke, pet dander, mold, viruses, and other allergens?
The Aspen Air Purifier is the gold standard for the removal of air pollutants, capable of removing pollutants that are 10,000 times smaller than a human hair! It is the most effective air purifier in the world, and we have the testing to prove it.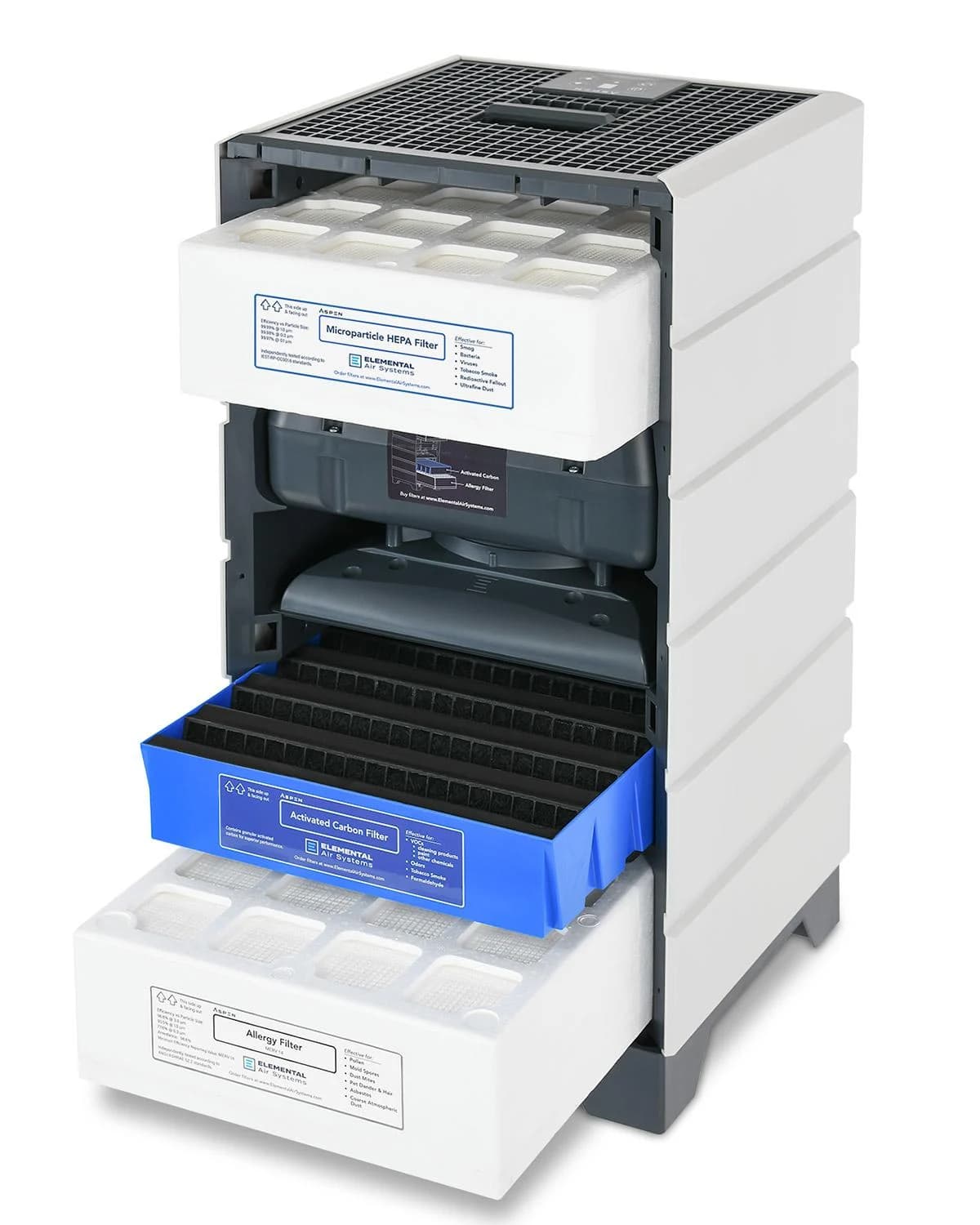 Aspen is the most effective air purifier in the world, allowing you to achieve healthy, clean air in your home.
Features & Benefits of The Extraordinary Aspen Air Purifier
10-year warranty with filter subscription & 2-year standard warranty
Significantly reduces asthma, allergies, and risk of long-term illness
Eliminates over 99.97% of particles down to 0.1 microns
Purification methods are 100% safe
Assembled in the USA
Requires 85% less electricity
3-stage air filtration process offers maximum air purification
Professional-grade air purifier covers up to 1,500 square feet
Looking to learn more about the state-of-the-art Aspen Air Purifier? Larry Janesky takes a deep dive into this unbeatable air quality solution, delving into the creation of this amazing system.
See More Aspen Videos
If you would like to reap the benefits of this industry-leading air purifier, get in touch with your local Basement Systems dealer to schedule a no-obligation, free estimate today. Allow their team to help you get clean air in your home with the powerful Aspen Air Purifier!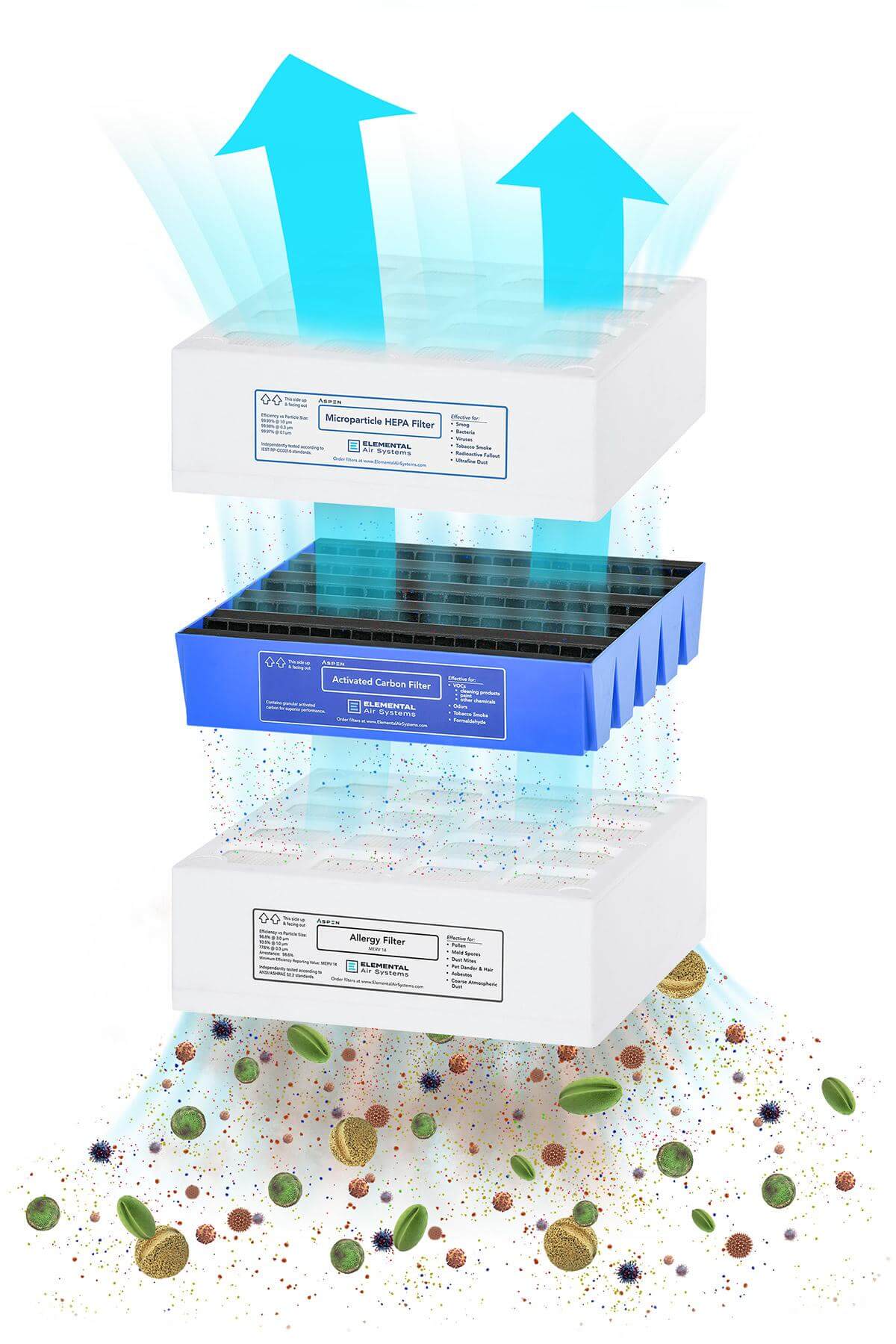 Ducts distribute the air both into and out of the basement, meaning Aspen can purify air in the whole house.
Unsurpassed 3-Stage Air Filtration Process
What sets apart the Aspen Air Purifier? It comes equipped with three custom-designed filters that allow for optimum filtration effectiveness and airflow. A different filter is used at each stage of the purification process, each capable of removing specific pollutants from your air. Each filter easily slides out of the machine like a drawer, so you don't have to worry about a difficult replacement process. These three filters are as follows:
Allergy Filter: Eliminates asbestos, mold, pollen, pet dander, dust mite droppings, and more!
Activated Carbon Filter: Eliminates odors, formaldehyde, chemicals, tobacco smoke, VOCs, and more!
Microparticle HEPA Filter: Eliminates 99.97% of particles as small as 0.1 microns, such as viruses, bacteria, smoke, soot, smog, and more with 40 square feet of HEPA filtration–nothing can get through!
Remove pesky allergens from your air with the Aspen Air Purifier.
Efficiency & Safety
Other air purifiers rely on potentially harmful technology—including UV lights, ozone generators, and ionizers—that can have a lasting impact on your health. Unlike the others, our unit prioritizes your health. Using 100% safe purification methods, the Aspen Air Purifier is guaranteed not to produce ozone.
Not only does your trusted Basement Systems dealer consider your health and safety, but they also understand the importance of efficiency. Designed with EC fan technology, Aspen Air Purifiers use up to 85% less electricity than your normal AC fan! At lower fan speeds that are most commonly used with this system, gains in efficiency are even more substantial. This solution will effectively clean your air while also saving you money on electricity.
Our unit is perfect for your basement with its safe, easy-to-use design. Your basement is especially susceptible to indoor air pollutants, particularly mold, so a high-quality air purifier like the Aspen Air Purifier is essential. Even better, these units cover up to 1,500 square feet, meaning that the benefits of clean air are felt throughout the home. Plus, they include a 10-year warranty with filter subscription and a 2-year standard warranty.
Two Miracle Machines for Superior Indoor Air Quality
When combined, the Aspen Air Purifier and the SaniDry Sedona Dehumidifier offer maximum indoor air quality in your basement and beyond.
There's no doubt that the Aspen Air Purifier provides countless benefits, including its simple-to-use design and its 10-year warranty. But what if there was an even better solution? When the Aspen Air Purifier is paired with the SaniDry Sedona Dehumidifier, you can achieve the healthiest indoor air quality available. The Sedona is a highly effective dehumidifier that keeps the relative humidity to a manageable level no matter the season. Both the Aspen and the Sedona have individually been coined "Miracle Machines" for the unmatched results they offer to homeowners, and for good reason!
The results you get when you combine these two systems are truly extraordinary. While the Sanidry Sedona keeps the air dry, the Aspen Air Purifier uses its three-stage custom-designed filters to remove even the tiniest air pollutants. The pairing of these two solutions is an uncompromising way to allow you to feel the benefits of clean, dry, and healthy air.
Say goodbye to itchy eyes and runny noses with the Aspen!
Schedule a free estimate with your local Basement Systems dealer today!
You'll be able to feel the difference in your basement and your home when you have breathable, dry, and healthy air. Get in touch with your trusted Basement Systems dealer to achieve the cleanest air for you and your family.
Inventor Tanner Janesky describes Aspen's journey from start to finish, and his determination to address a broad range of allergens with a compact, efficient, easy-to-install purification system.
See More Aspen Videos
Looking for a price? Get a no cost, no obligation free estimate.