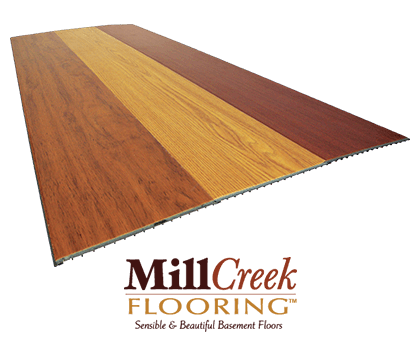 MillCreek Flooring™ Benefits
Totally immune to mold & moisture damage.
Will not warp, twist or crack like real wood flooring.
No subfloor or expensive underlayment required.
Excellent resistance to stains & scuffing.
Available in 3 different wood tones: mahogany, oak & rosewood.
Low-profile to maintain maximum headroom in the basement.
MillCreek™ Basement Faux Wood Flooring
Looking for product pricing?
MillCreek Flooring™ is only available from a certified installer in your area. Contact us to request an inspection & get a free cost estimate to have it installed in your home.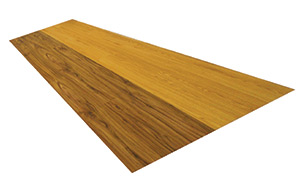 Beautiful in the basement. MillCreek flooring looks like real wood, but its vinyl composition ensures that it will never warp, crack, rot or require expensive refinishing. Two different wood tones are available.
The appearence of wood floor without moisture and maintenance worries
Just about everyone loves the look of a wood floor. But installing a wood floor in your basement can lead to serious problems. Wood's porous nature means that your flooring will absorb and hold moisture, creating ideal conditions for mold and wood rot. And wood's tendency to crack, swell or warp means you might be in for expensive repairs. Eventually, wood floors require refinishing, too.
MillCreek flooring looks like real wood
Wouldn't it be nice to enjoy the beauty of a wood floor in your basement, with none of the risks and hassles that commonly occur? MillCreek® flooring can make this dream a reality. MillCreek flooring planks have an authentic wood grain top surface, printed on a solid vinyl base that can't be damaged by mold, moisture, insects or animals. As long as your basement's concrete floor is reasonably flat and smooth, MillCreek flooring can be installed over a thin cushioning sheet laid directly on the concrete.
MillCreek flooring comes in three distinctive wood grain tones, enabling you to choose between dark rosewood, light-grained oak, or medium brown mahogany. The durable, easy-cleaning characteristics of MillCreek flooring make it an ideal choice for all kinds of rooms in a finished basement. Get the basement floor of your dreams with none of the nightmares that can occur with real wood flooring.
Looking for a price? Get a no cost, no obligation free estimate.