What is an ENERGY STAR Dehumidifier?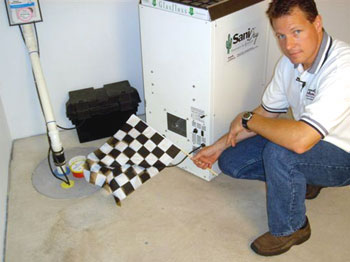 SaniDry™ Dehumidifiers are Energy Star certified.
The SaniDry Sedona and the SaniDry XP dehumidifiers from Basement Systems have earned the ENERGY STAR, which means they are nearly 30% more efficient than non-certified models.
Energy-Efficient Performance Features of SaniDry Dehumidifiers:
The SaniDry™ blows air over a huge cold coil. It looks like a truck radiator instead of the little squirrely spiral coil of dinky dehumidifiers.
The SaniDry™ runs the exiting dry cold air through a special heat-exchange core that pre-cools the incoming wet air and recaptures energy.
The SaniDry™'s powerful 200 cfm blower not only grabs more air in order to dry faster but also moves the dry air out around your basement to dry the contents of the space.
Looking for a price? Get a no cost, no obligation free estimate.