SaniDry™ Sedona Dehumidifier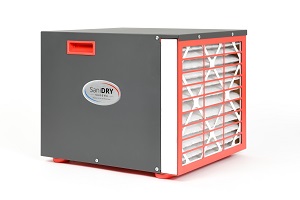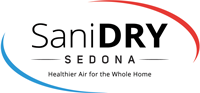 SaniDry™ Sedona Benefits
Stops mold growth, musty odors & dust mites
Eliminates muggy feeling caused by high humidity
Relieves asthma and allergies
Lowers electricity costs over time
More Basement Waterproofing Products:

Sump Pumps
Looking for product pricing?
The SaniDry™ Sedona dehumidifier is only available from a certified installer in your area. Contact us to request an inspection & get a free cost estimate to have it installed in your home.
Say goodbye to a damp home with the world's most efficient dehumidifier
The SaniDry™ Sedona is the world's most efficient, high-performance dehumidifier and filtration system. When installed in your basement or crawl space, you get dry, healthy air and total comfort. The Sedona is small in size, yet powerful enough to keep up, ensuring a mold-free basement or crawl space.
What's downstairs...is upstairs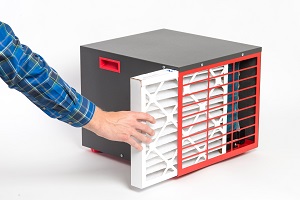 A MERV 8 filter removes mold spores, dust, dust mite droppings and other allergens from your air.
If there is high humidity and musty odors in your basement or crawl space, it will affect the upstairs environment. Mold and mildew are musty smelling fungi that thrive in moist conditions, like in your basement or crawl space. Dust mite fecal matter is the #1 indoor allergen. The SaniDry Sedona will keep your home below 55% Relative Humidity, so mold won't stand a chance and dust mites will die off.
Whether a dehumidifier will keep up and ensure mold won't grow in all seasonal conditions depends on how much water it will take out of the air. This depends on capacity and air flow. The SaniDry Sedona has over a whopping 100 pints per day capacity and will move over 300 cubic feet of dry air per minute around your basement or crawl space. By drying the below-grade area of your home, the SaniDry Sedona will help make your whole house drier and healthier!
SaniDry™ Sedona Features:
Water removal capacity: 100 pints of water per day
Efficiency: 2.9 liters per kilowatt hour (L/kWh)
Automatic humidity sensor for effective control of excess humidity
No messy trays or buckets of water to empty
MERV 8 filter removes mold spores, dust mite droppings, dust and other particulates
Includes an easy-to-use digital LCD control
LCDI plug provides electric circuit protection
Can be ducted to reduce noise level
ENERGY STAR certified humidifier
Get a free estimate on dehumidifier installation today
For more information on basement dehumidifiers or to schedule a free installation estimate, call us at 1-800-638-7048. Installing a dehumidifier is a permanent solution for humidity and moisture in the basement, leaving you with a dry, healthy space.
Our Basement Waterproofing Products
Looking for a price? Get a no cost, no obligation free estimate.