Basement Windows
Brighten your basement with maintenance-free windows & window wells
Old basement windows are ugly. The steel-frame versions rust, while old wood-frame windows rot. Cold air can leak in around the window during winter months. And the single-pane glass in an old basement window allows plenty of heat to escape, making your basement drafty and chilly.
A typical basement only has a few windows, and they're not very big. So why not make the most of these openings? That's what our basement window products are designed to do. Check out these 3 great basement window upgrade options from Basement Systems.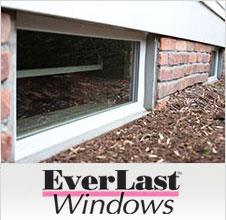 EverLast™ Window Inserts replace ugly basement windows with insulated glass in a maintenance-free vinyl frame.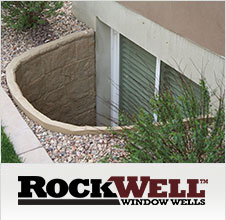 RockWell™ Egress Window Wells let in natural light and are large enough to use as an emergency exit.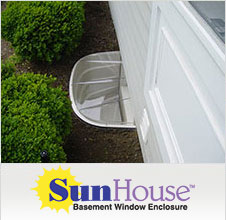 SunHouse™ Window Wells feature durable, all-vinyl construction and clear acrylic tops to keep out rain, debris & pests.
Window upgrades make a big difference in your basement
This window needs help. It's easy to see how basement windows get a bad reputation.

Basement window protection. With a basement window well and cover, you won't have to worry about debris.
Old basement windows are a problem, both inside and outside the house. Is your answer "yes" to any of these questions?
Do you have window wells that are full of debris and vegetation?
Do you have basement windows with rusty steel frames that need stripping and painting?
Is your basement chilly in winter because of all the heat loss through single-pane glass, and all the cold air leaking in around the window frame?
You can permanently put an end to these basement window problems with innovative basement window upgrades from Basement Systems. Unlike "old-school" basement window products that will rust and deteriorate over time, our windows and window wells never require painting or maintenance, and they're just about indestructible.
Choose our EverLast™ window inserts if you don't need natural ventilation in your basement. Once installed, these windows provide an airtight seal that will put an end to unwanted air infiltration. The large insulated glass panel provides plenty of natural light.
For an operable, maintenance-free basement window, you can't beat our EverLast™ basement slider. A built-in screen will keep pests out of your basement when the window is open. For easy cleaning, the two window sash simply pop out of the frame.
To upgrade the exterior side of a basement window, we replace the old steel window well with a solid vinyl SunHouse™ window well that can't be damaged by moisture and never requires painting. It's a good idea to equip each SunHouse™ window well with a matching clear acrylic cap. With this upgrade completed, you'll be able to bring natural light into the basement without worrying about snow, rain, plants or debris filling up the well.
Looking for a price? Get a no cost, no obligation free estimate.