Basement Drainage System
An affordable and effective interior drainage system for the home
Advantages of an Interior Drain System
Our interior drainage systems are clog resistant.
More affordable than an outside system.
Installs in a day or two.
Can be installed and serviced year round.
Patented, warranted, and award-winning to keep your basement dry!
So if an exterior drainage system is not the answer, what is? An interior water drainage system! By installing a drainage system around the inside of the basement along the wall, you can capture water at the most common point of entry - the floor/wall joint.
You can also capture water from the walls and prevent the center of the basement floor from leaking by intercepting the water at the perimeter of the floor before it gets to the center.
Even in basements that are already finished, it's still much easier to waterproof from the inside than the outside.
Most full-time basement waterproofing companies offer interior drainage systems - between which there are big differences in systems. Some are old-fashioned and generic, and others are modern and specially designed for the job.
A brief history on what drainage systems used to be like...
Old fashioned waterproofing. A long time ago, drainage systems used to be made of clay drain tiles to channel water out of the building.
In the 1950's and before, clay pipe sections about 18 inches long were used for underground and under-floor drains. There were no holes in the pipe, but instead the sections were laid with a quarter-inch space between them to let in water. Since the pipe sections were made from clay tile material - like a chimney flue pipe or a brick- they called it drain "tile."
This term, drain tile, is still used today to refer to a pipe with holes or slots in it that is buried for drainage, even though the industry switched to plastic pipe long ago. These generic, round, perforated drainpipes can be used for field drainage, exterior footing drains, road drainage, and just about anything.
Clay or plastic, the pipe was usually laid alongside the footing in new construction applications, and many contractors do the same for retrofitting an existing home. However, this placement of the pipe isn't necessarily the best. Existing drains alongside the footing have failed - usually by clogging with dirt. Slowly, different methods began to develop in the 60's, and afterwards.
State-of-the-art solution for waterproofing the basement
Engineered for performance. This image demonstrates what a drain tile (left) used to look like and what a new and improved drainage system looks like in WaterGuard (right).
Today, a system called WaterGuard, developed in 1994, has proven to have all the benefits for which homeowners and contractors are looking.
In some cases, such as in basements where there is no footing (i.e.; monolithic basement floors), a system called DryTrak, which is a baseboard water drainage system, may be installed.
All Basement Systems dealers are trained basement specialists offering a wide variety of basement waterproofing methods that make more sense than outdated methods, so they can serve you best!
Drain system options
Select any of the interior drain system options below to learn more about the system advantages and benefits over an exterior drainage system. Your local dealer will be able to help you choose which system is best for your home.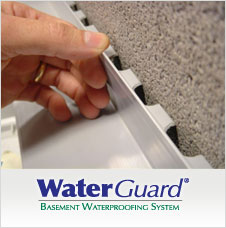 If you have water in your basement and have a poured footing, this is the drainage system for you.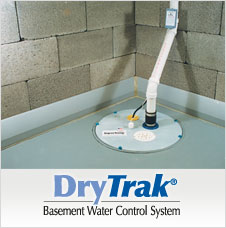 Perfect for Monolithic Basement Floors.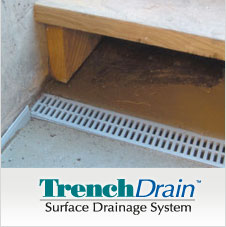 If the bottom of your entryway has water, the TrenchDrain is the answer.
Contact your local waterproofing contractor today by calling 1-800-875-7551 or online for a free estimate and inspection.
Looking for a price? Get a no cost, no obligation free estimate.