Basement Drainage System
State-of-the-art solutions for waterproofing the basement
Select any of the interior drain system options below to learn more about the system advantages and benefits over an exterior drainage system. Your local dealer will be able to help you choose which system is best for your home.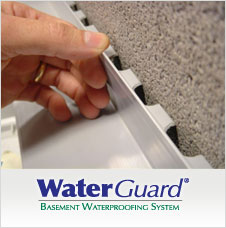 If you have water in your basement and have a poured footing, this is the drainage system for you.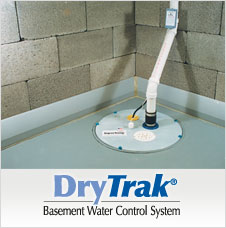 Our baseboard water drainage system - perfect for monolithic basement floors.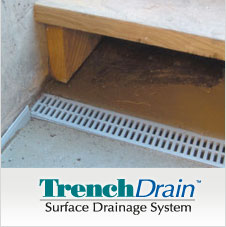 If the bottom of your entryway has water, the TrenchDrain is the answer.
Get a customized drainage system for your home
Do you have standing water or a musty smell in your basement? Don't have a problem, but want to protect your basement against water intrusion? Contact us to find a dealer in your area who can help!
Our innovative interior drainage systems easily outperform exterior drains (and cost less too!)
Advantages of an Interior Drain System
Our interior drainage systems are clog resistant.
More affordable than an outside system.
Installs in a day or two.
Can be installed and serviced year round.
Patented, warrantied, and award-winning to keep your basement dry!
Some contractors recommend installing a drainage system outside the foundation as a waterproofing system. In fact, exterior drainage is required by code in many areas. The trouble with exterior drain lines is that they eventually clog with silt, soil and roots.
So if an exterior drainage system is not the answer, what is? An interior water drainage system! By installing a drainage system around the inside of the basement along the wall, you can capture water at the most common point of entry - the floor/wall joint.
You can also capture water from the walls and prevent the center of the basement floor from leaking by intercepting the water at the perimeter of the floor before it gets to the center.
Even in basements that are already finished, it's still much easier to waterproof from the inside than the outside.
State-of-the-art solution for waterproofing the basement
Exterior drains will eventually fail. Tree & plant roots are attracted to the water in exterior drains. Fine silt is also transported into the drains by water.

Engineered for performance. This image demonstrates what a drain tile (left) used to look like and what a new and improved drainage system looks like in WaterGuard® (right).

Old fashioned waterproofing. A long time ago, drainage systems used to be made of clay drain tiles to channel water out of the building.
Most full-time basement waterproofing companies offer interior drainage systems - between which there are big differences in systems. Some are old-fashioned and generic, and others are modern and specially designed for the job.
All Basement Systems dealers are trained basement specialists offering a wide variety of basement waterproofing methods that make more sense than outdated methods, so they can serve you best!
It doesn't matter what types of water problems you are experiencing in your basement, or how your house was constructed, our waterproofing products can be installed to create a system that's right for you!
To learn more about how the Basement Systems basement waterproofing system can work for you, contact us by phone or email us today to setup a consultation with your local contractor!
Looking for a price? Get a no cost, no obligation free estimate.