Sump pumps get the water out!
Keep your basement dry with a sump pump system you can count on
Sump Pump Services from Basement Systems
Free sump pump inspection
Sump pump replacement
New sump pump installation
Sump pump maintenance
Power outage protection with battery backup systems
Complete basement and crawl space waterproofing systems
A sump pump is the heart of a basement or crawl space waterproofing system. This electrically powered device does the heavy lifting to keep your basement dry. It pumps water out of your basement (or crawl space) after the water collects in a sump pit dug into the floor.
Your sump pump setup doesn't have to be an eyesore. Instead of being installed in an ugly open hole, your sump pump can be housed in a durable plastic sump liner with an airtight cover. A sump pump from Basement Systems is actually part of a well-designed system with top-quality components that work together to keep your basement dry.
Basement Systems' Sump Pumps are worth showing off!
Many contractors will install sump pumps. But Basement Systems has an exclusive line of sump pumps with innovative features you won't find anywhere else. Here's why you'll feel great about a sump pump from Basement Systems:
Quality components.
We carry only the best sump pump motors in the industry, designed to handle high water volume and long run times.
Reliable performance.
Our sump pumps are designed to resist clogging and feature a compact, jam-proof switch.
Attractive appearance.
The flush-fit installation of our sump liner won't detract from the appearance of your basement.
Different models to choose from.
We'll help you select the best sump pump system that works with your budget and your waterproofing system. We offer a variety of basement waterproofing options, including the TripleSafe sump pump, SuperSump sump pump, SmartSump sump pump, and more.
Power outage protection.
Concerned about keeping the sump pump running during a power outage? Ask about our UltraSump battery backup sump pump systems.
We're proud of our parts!
A Basement Systems sump pump is much more than just a pump. No matter what sump pump you choose, you can bet that you are getting a quality, dependable basement waterproofing or crawl space repair solution from the nation's most trusted wet basement contractors.
Commonly addressed sump pump questions from our customers
Why do sump pumps fail?
When should I replace my sump pump?
How long can my sump pump back-up system operate?
What kind of battery back-up system should I get?
Do you need a sump pump for the crawl space?
A Basement Systems sump pump is much more than just a pump. Below are the individual parts that make up this high-quality system.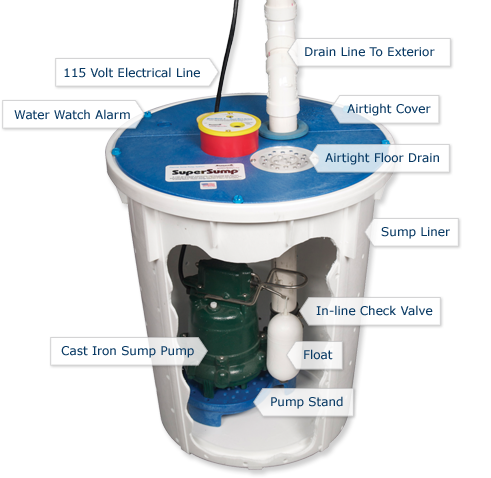 Don't settle for a sub-par sump pump. Since the sump pump plays a critical role in keeping the basement (or crawl space) dry, it's worth it to invest in a sump pump system that will deliver many years of reliable performance. Call today to learn more about why we have the best sump pump systems in the industry.
Don't wait! Schedule a free sump pump evaluation and estimate for sump pump replacement or installation today. Learn more about what causes basement water problems and how our sump pumps are an easy, effective solution.
Looking for a price? Get a no cost, no obligation free estimate.