Crawl Space Insulation
Advantages of Our Crawl Space Insulation Services
Free crawl space insulation inspection
Improved structural durability of crawl space
Gain valuable storage space
Save money on utility bills
Fast, clean installation
Free installation cost estimates
It's important to choose the right kind of insulation, and install it in the right place
There are many different types of insulation, and each type will work well in some applications and poorly in others. Nowhere is this better illustrated than in a crawl space. Builders began using fiberglass batts to insulate the crawl space many years ago, before many newer types of insulation had been developed. Today, fiberglass is still sometimes installed between crawl space ceiling joists, even though it often fails miserably at its job (see photo).
---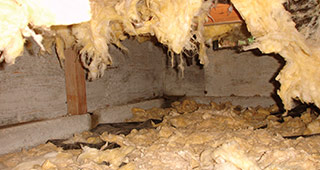 Batts are bad in a crawl space. When moist air condenses on joists and sheathing, the fluffy insulation will gain weight, deteriorate and fall out of place
Rigid foam lasts longer & works better. Installed against crawl space walls, rigid foam insulation can't fall out of place, lose R-value, or be damaged by moisture.
Batts have several strikes against them
Proper way to insulate a crawlspace. Today, most experts agree that rigid board insulation fastened to crawl space walls performs best. Our SilverGlo® expanded polystyrene (EPS) boards outperform other EPS products. It installs easily and securely, is waterproof, and helps seal out moisture and air in addition to preventing heat transfer. The floor is sealed with an air and vapor barrier that's taped to the rigid insulation. Rim joists and sills are sealed with SilverGlo or spray foam and vents are sealed, too. The access hatchway to the outside is made airtight. Crawlspace floors may also be insulated and cushioned with our TerraBlock® ¾-in. thermal padding.
Many crawl spaces insulated with fiberglass batts end up looking like the photo shown here. Why is this so? Fiberglass insulation works best in the dry, enclosed spaces found in wood-framed walls. When batts are installed between joists in a vented crawl space, the fluffy fiberglass tends to absorb water that collects on joists and floor sheathing when moist air condenses on these surfaces. The water weight eventually causes the fiberglass to compress, separate and fall onto the crawl space floor. The result is really a problem: a moldy, messy space that's no longer properly insulated.
Rigid foam to the rescue
Rigid foam insulation is more expensive than fiberglass, but you only have to install it once! Instead of putting the insulation between ceiling joists in the crawl space, the right place for rigid foam is against crawl space walls. This insulation treatment is part of a crawl space sealing (or encapsulation) strategy that building scientists recommend to improve comfort, energy efficiency and building longevity. By insulating the walls and sealing the vents, your crawl space can become a dry, clean, controlled environment rather than an uncontrolled space subject to changing outdoor temperature and weather conditions.
SilverGlo® & TerraBlock® offer excellent performance and value
Instead of using standard off-the-shelf rigid foam insulation in your crawl space, why not get insulation designed for top performance in this challenging environment? Basement Systems has developed and is currently manufacturing SilverGlo insulation for crawl space walls and TerraBlock insulation for crawl space floors. Ask for these products to make sure you get the best performance and value when improving your crawl space.
---
TerraBlock™ is high-performance crawl space insulation that includes a durable moisture barrier. The ¾-in.-thick sheet material can be installed directly over any type of crawl space floor, providing a clean, dry surface that helps the home to be more comfortable and energy efficient. Thanks to its puncture-proof design, TerraBlock also provides a cushioned surface for anyone who needs to work in your crawl space. To provide drainage in a crawl space that has water seepage, we install TerraBlock over drainage matting that directs water to a sump pump. TerraBlock can also be used to seal and insulate crawl space walls. It's compatible with other products in the CleanSpace system.
---
SilverGlo® rigid foam insulation is available exclusively from Basement Systems. Thanks to a patented graphite infusion process, SilverGlo has higher R-value than standard EPS foam (R-11 for a 2-in.-thick panel). Every SilverGlo panel also comes with a shiny integral radiant barrier that reflects heat for enhanced energy efficiency. SilverGlo is ideal for insulating basement and crawl space walls because of its excellent thermal properties and exceptional durability. It won't lose R-value or be damaged by moisture.
---
A finished product. Once your crawl space is fully encapsulated and insulated with CleanSpace, your crawl space will be a great place for storage and other valuables!
A crawl space encapsulation system always includes sealing off outside air and providing a moisture barrier to prevent water vapor from the ground. It may also include waterproofing, wall and floor insulation, and a dehumidifier depending upon your climate, the conditions at your site, and your budget.
A comprehensive approach to insulating and sealing the crawl space
SilverGlo 2-in. rigid board insulation, is infused with graphite particles and lined with a radiant barrier, achieve an R value of 11.
TerraBlock is a thick, flexible insulating mat that can be installed under the CleanSpace liner. In addition to preventing heat loss to the ground, it helps prevent damage to the line from stone outcroppings and traffic.
Closed cell spray foam is used to seal rim joists and sills.
The CleanSpace liner seals out air and moisture.
Tapes, wall caps, and airtight vent cover and access hatches round out the BSI arsenal.
Benefits of an encapsulated and insulated crawl space
What's with crawl space insulation? Insulating your crawl space can save up to 20% on your utility bills!
Once your crawl space has been fully encapsulated, it then becomes a semi-conditioned part of your home. In other words, the crawl space is no longer outside the home's heating/cooling envelope. This pays some immediate dividends.
First off, the floor above the crawl space will be much warmer to the touch. Drafts will be reduced. Humidity levels in the crawl space become similar to the rest of the house. Condensation no longer forms on HVAC equipment or ducts. Air leaks in ducts located in the crawl space no longer suck mold spores or other allergens into your living space. During the winter, the plumbing inside your crawl space is less susceptible to frozen pipes.
The industry leading company in crawl space systems & insulation
When deciding upon which CleanSpace products to include in your crawl space upgrade, it's best to consult with a Basement Systems specialist. Our experts will help you make decisions about whether you will need to install a waterproofing system before you insulate, how much insulation you need, and what type of liner to use. To help you understand the options, however, here are some product combinations that are popular with our customers.
Encapsulate whether or not you need to insulate
It's smart to encapsulate your crawl space to prevent moisture and outside air infiltration regardless whether you decide to install insulation. Moisture promotes the growth of fungus that can rot floor joists, causes mold to grow (the spores from which eventually find their way into your home), and is a welcome mat for destructive insects, such as termites.
In addition, water vapor from the crawl space can spread throughout the house structure to sheathing, roof decks, and siding, causing corrosion, blistered paint, and still more rot. High indoor humidity will also cause your air conditioner to work harder and be less efficient, increasing maintenance expenses and wasting energy dollars. Insulation alone cannot solve all of the problems associated with crawl spaces!
If you are considering adding crawl space insulation, you might want to think about having your crawl space encapsulated at the same time. Contact your local Basement Systems dealer to learn more about the benefits of crawl space encapsulation and to schedule an estimate for insulating your crawl space.
Looking for a price? Get a no cost, no obligation free estimate.