SaniDry™ XP Basement Dehumidifier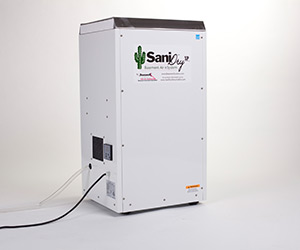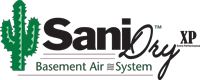 SaniDry™ XP Benefits
Creates dry, clean air
Removes risk of mold growth
Never needs to be emptied
Energy efficient
10x more powerful than traditional dehumidifiers
More Basement Waterproofing Products:

Sump Pumps
Looking for product pricing?
The SaniDry™ XP Dehumidifier is only available from a certified installer in your area. Contact us to request an inspection & get a free cost estimate to have it installed in your home.
A mold & rot free basement
The SaniDry™ XP upright model, an energy-efficient basement dehumidifier, is mainly created for basements or other large spaces covering as much as 2500 square feet.
This unit is industry best for dehumidifying a basement, offering 10x the performance of household dehumidifiers while using the same amount of energy. Call your local Basement Systems dealer today for a free estimate on a SaniDry™ XP dehumidifier.
SaniDry™ XP Features:
109 pints per day capacity, AHAM test conditions (80F. 60%)
Built-in defrost system - designed to operate down to 40F. Will not freeze in basement conditions
Controlled by a dehumidistat with digital settings and a variable setting range from "45%" to "90%"
Plugs into a standard 15 amp, 115 volt outlet via 10 ft power cord
Direct gravity drain hose to floor drain, WaterGuard®, or sump pump. Drain hose can be extended using 1/2 inch PVC pipe
The unit contains a blower switch that permits continuous blower operation with or without dehumidification
| | |
| --- | --- |
| Specifications: | |
| Power | 110-120 VAC, 6.75 amps / 742 Watts |
| Blower | 300 CFM |
| Weight | 106 lbs. |
| Capacity | 109 pints/day @ 80'F, 60% RH / Up to 2500 sq. ft (8 ft ceiling) |
| Dimension | width:19 ¾", height:36½", depth:17½" |
| Operating Temperature Range | 40 to 95 F |
| Ducting | Yes |
| Refrigerant Type | R-410 A |
| EPA Energy Star Certified | Yes |
| Air Filter | MERV-11 |
Schedule a free estimate for a dehumidifier today
For more information on basement dehumidifiers or to schedule a free installation estimate, call us at 1-800-638-7048. Installing a dehumidifier is a permanent solution for humidity and moisture in the basement, leaving you with a dry, healthy space.
Our Basement Waterproofing Products
Looking for a price? Get a no cost, no obligation free estimate.