SmartSump™ Crawl Space Sump Pump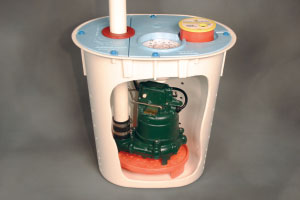 A smart idea for your crawl space
The SmartSump™ has a high quality Zoeller 1/3-hp cast-iron pump, with automatic float switch. The lid and unique SuperLiner® sump pump basin are designed to accept the CleanSpace® crawl space vapor barrier system, for an airtight seal.
Other waterproofing products:

SmartPipe™
Drainage System
Looking for product pricing?
SmartSump™ is only available from a certified installer in your area. Contact us to request an inspection & get a free cost estimate to have it installed in your home.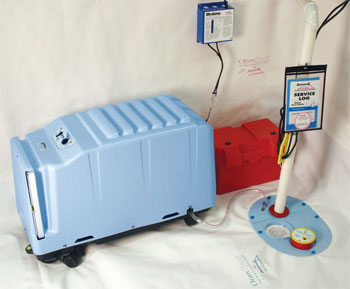 Wow! That's a clean-looking crawl space! A SmartSump™ with Battery Backup and a SaniDry™ Crawl Space Dehumidifier keeps a house dry and healthier.
SmartSump™ drainage system keeps the crawl space dry and protected
Part of keeping your crawl space dry involves a sump pump. But not just any sump pump installation will do. Basement Systems' SmartSump™ is specifically designed just for crawl spaces.
The SmartSump™ has a unique sump pump cover design, so water from a plumbing leak fills an alarm pocket on the lid first, sounding a WaterWatch® alarm that will let you know there is a plumbing leak. From there, the water flows down a special airtight floor drain that will let the water down, but damp air cannot come up into your crawl space. The WaterWatch® sump pump alarm also alerts you to pump failure for any reason, including power outages.
The SmartSump™ liner lid also has a built-in knockout to accept a dehumidifier hose. The pictured SaniDry™ Sedona, a crawl space dehumidifier and air filtration system, works in perfect unity with the CleanSpace® system and the SmartSump™ crawl space sump pump system.
Battery Backup for your SmartSump™
The SmartSump™ is available with or without an optional UltraSump® battery backup pumping system. The UltraSump® has a second pump in the event that the primary pump fails, a second switch in case of switch failure, and a second power source in case of power failure.
The UltraSump® can pump more than 11,000 gallons of water out of a crawl space from the energy stored in the specially engineered, sealed, long-term, stand-by battery. There is a special charging system that keeps the battery charged when the battery is on, and an alarm to tell you the secondary pump is operating. This protection is optional, but highly recommended, and is just another reason to install one of our industry-leading sump pumps in your home.
Our Basement Waterproofing Products
Looking for a price? Get a no cost, no obligation free estimate.