Sump Pump Features
Every component plays a critical role in keeping your basement dry
The sump pump is the most important part of a basement waterproofing system. If it stops functioning for any reason, ground water will soon overflow the sump pit and flood your basement. To make sure this doesn't happen, you want your sump pump to have all the right qualities. It should be powerful and reliable, with enough pumping capacity to handle worst-case storm water volume. But you also want a sump pump that isn't an eyesore in your basement. It should look as good as it performs.
With over 25 years of basement waterproofing experience, Basement Systems has learned what can go wrong with a sump pump. To avoid failures that result in basement flooding, we don't just focus on top-quality sump pumps. Instead, we design and manufacture sump pump systems that include the best components available.
It's more than
just a pump!
A Basement Systems sump pump is more than just a pump. Click on the image to learn about the individual parts of this high-quality system.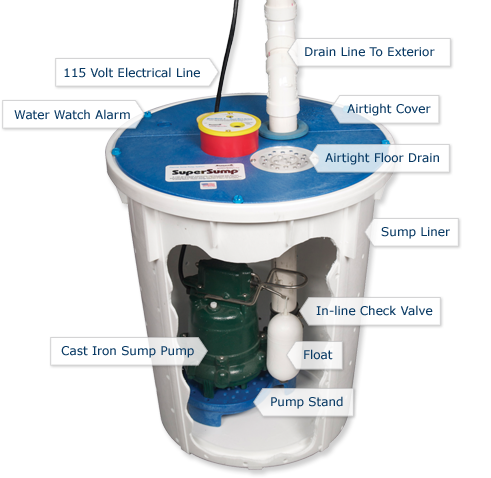 Choose a system designed for maximum protection
If you're looking to replace your old sump pump or need to install a sump pump in your basement or crawl space, our certified Basement Systems dealers can help you find one with the features that best fit your needs and budget. Call us or contact us online to get started!
Quality features of our sump pump systems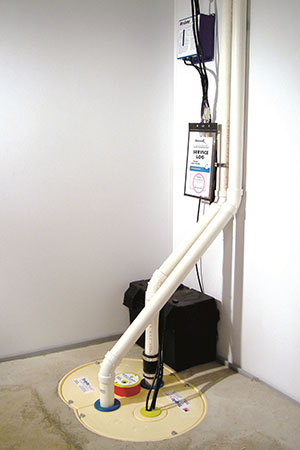 Top performance & excellent appearance. A sump pump system from Basement Systems incorporates top-quality components in an attractive & functional design.
Sump liner. An open sump pit is hazardous, ugly and prone to clogging with debris. Our sump pump systems are housed in a durable plastic sump liner that includes an airtight lid. The finished installation fits flush with your basement floor.
Floor drain & water level alarm. The sump liner's airtight lid contains a one-way
basement floor drain, in case standing water needs to drain into the sump liner. A battery-powered sump pump alarm is also built into the top. It will sound automatically if water level in the liner rises above the top of the pump.
Zoeller sump pumps. The cast iron housings and powerful motors on our Zoeller pumps handle long run times and heavy pumping volume that overwhelm other pumps. These are the best pumps available.
Reliable float switch. Unlike a "ball-on-wire" float switch that is prone to jamming or snagging, our linear-action float switch won't malfunction. With our float switch, the sump pump will always "know" when to operate.
Pump stand. Each pump rests on a
specially-designed pedestal that prevents silt and small objects from clogging the intake.
Check valve. Installed on the drain line, this one-way check valve prevents water from flowing back into the sump pit.
Battery backup. We recommend installing a system that includes battery backup to keep your waterproofing system functioning during a power outage.
Looking for a price? Get a no cost, no obligation free estimate.