Sump Pump Check Valve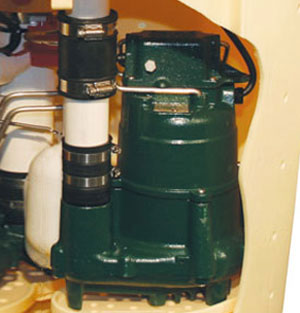 Backflow Protection
The black check valve attached to the sump pump's discharge line prevents discharged water from flowing back into the sump pit.
Other basement waterproofing products

IceGuard® discharge elbow
The special valve prevents backflow into your sump pump
Looking for product pricing?
Sump Pump Check Valve is only available from a certified installer in your area. Contact us to request an inspection & get a free cost estimate to have it installed in your home.
A check valve is sometimes referred to as a "one-way" valve because it allows water (or any liquid) to move in one direction only. To appreciate how a check valve helps your sump pump system work more effectively, think about what happens when no check valve is present. Your sump pump will turn off automatically after a certain amount of water is pumped out of your sump pit or sump liner. But the water that remains in the discharge pipe will fall back into the sump pit, raising the water level again so that pumping will need to resume. By installing a check valve in the sump pump's discharge line, you can avoid pumping the same water twice.
A small component that makes a big difference.
At Basement Systems, we make sure to install a check valve on every one of our sump pumps. Forcing a sump pump to move the same water twice can cause the pump to burn out prematurely. For reliable, long-term performance, a sump pump needs the backflow protection that a good check valve supplies. that's designed to sit on your basement floor. When positioned next to a water heater, water tank or clothes washing machine, this alarm provides an instant alert if there's a plumbing leak or overflow. Get a free estimate and consultation on your new sump pump products and parts, today!
Get started with a free installation quote
Contact Basement Systems for a Free Estimate for any of our basement waterproofing products.
Our Basement Waterproofing Products
Looking for a price? Get a no cost, no obligation free estimate.