Sump Pump Floor Drain
Flood Stopper
A basement floor drain can help prevent the basement from flooding in the event of a plumbing leak. A floor drain is built into the airtight lid of our sump pump basin.
Other waterproofing products:

Basement Window Well

Downspout Extensions
Protect your basement from a plumbing leak with a special drain that's part of your sump pump system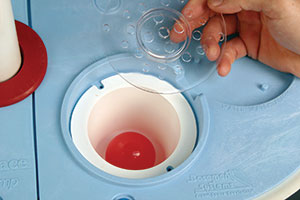 Airtight design.A hole in the floor drain basin is covered by a hollow ball. The ball floats when water drains into the basin, allowing the water to drain into the sump liner. This design prevents sump pump odors and radon gas from entering the basement.
Sump pumps are designed to prevent basement flooding due to ground water intrusion. But basements can also flood if there's a plumbing leak -from a washing machine or a leaky valve. Water can also get onto the basement floor if your water heater or water tank springs a leak. In all these instances, you can minimize water damage if there's a way for water to drain into your sump pump. That's why we incorporate a floor drain in our sump pump systems.
When you buy a sump pump system from Basement Systems, you get a system with sump pump features, including a heavy-duty plastic sump liner with an airtight lid. The floor drain built into the sump liner lid will help to drain away any water that gets on your basement floor. Our floor drain is designed with a hollow plastic ball that rests over the drain hole in "dry" mode, preventing sump pit odors (and radon gas) from entering your basement. When water enters the drain, the ball floats free until floor drainage is complete. It's a basic, foolproof system that will help minimize water damage from plumbing leaks. A new sump pump installation always starts with a free estimate and consultation.
Get started with a free installation quote
Contact Basement Systems for a Free Estimate for any of our basement waterproofing products.
Our Basement Waterproofing Products
Looking for a price? Get a no cost, no obligation free estimate.