Sump Pump Problems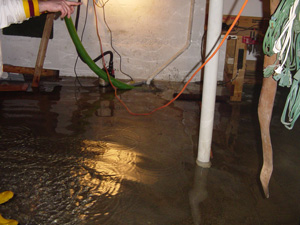 Pump failure spells disaster. When the water level rises during wet weather, make sure your sump pump is up to the task. A cheap pump can end up costing you a tremendous amount of money.
Don't wait until it's too late to prevent basement flooding!
The sump pump is the most important part of a basement waterproofing system. A well-functioning sump pump always stays ahead of rising ground water, turning on automatically before the water level reaches your basement floor and moving the unwanted water outside the house.
Sump Pump Services from Basement Systems
Free inspection of current sump pump and waterproofing system
Free written estimates
Sump pump installation and replacement
Basement sump pumps and crawl space sump pumps
Battery backup systems for added protection
There's no such thing as a "minor" sump pump problem
It's a terrible feeling to anticipate severe wet weather wondering if your sump pump will perform as it should. Any weakness or deficiency can result in a wet basement. To feel confident that your basement will stay dry, it helps to understand common sump pump problems – and then avoid them by making smart sump pump choices.
To schedule an estimate to upgrade your sump pump system, contact the waterproofing experts at your local Basement Systems dealer today!
Common sump pump problems that cause basement flooding
Underpowered pump can't handle high-volume water intrusion during severe storms.
Pump burn-out can occur because of a faulty float switch or an overworked, underpowered pump. Cheap pumps made with inexpensive materials and components are prone to failure, especially when they're needed most during extremely wet weather.
Power outages make pumps nonfunctional unless a battery backup system is used.
Clogged intake prevents the pump from extracting water from sump pit or sump liner.
Frozen discharge line can block pumping action in cold weather, forcing water back into the basement.
A TripleSafe® Sump Pump provides triple protection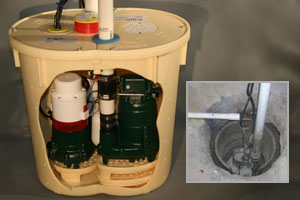 The solution: Three separate pumps, contained in an oversize plastic sump liner, keep the TripleSafe sump pump system working long after standard systems fail.
The TripleSafe sump pump from Basement Systems was designed from scratch to overcome common sump pump problems. In fact, the TripleSafe is actually a sump pump system engineered to function under extreme conditions that often overwhelm standard sump pumps. The TripleSafe's oversize plastic sump liner contains three pumps that can function independently or in combination depending on pumping requirements.
Pump #1 is a heavy duty 1/3HP Zoeller pump that handles normal pumping requirements.
Pump #2 is a 1/2HP "high-volume" Zoeller pump that automatically comes on when extra pumping capacity is needed. Working together, these two pumps can move 6,200 gallons of water an hour.
Pump #3 is a DC-powered pump that gets its electricity from a heavy-duty, deep cycle battery. This backup pump comes on automatically if the power goes out and a sump pump needs to operate.
Other problem-solving features incorporated into the TripleSafe design include patented Pump Stands™ that prevent sediment from clogging pump intakes, jam-proof float valves and IceGuard™ discharge lines that prevent ice from clogging sump pump discharge lines.
There's one sump pump problem that won't result in a wet basement: Some sump pumps are really ugly. When you have a TripleSafe sump pump system installed, this problem also goes away. With its airtight lid and clean appearance, you'll have a fail-safe sump pump that's worth showing off.
Contact us to schedule an estimate with your local Basement Systems, Inc. dealer to learn more about how our TripleSafe sump pump and other battery backup sump pump systems can prevent common sump pump problems from occurring and help keep your basement dry.
Looking for a price? Get a no cost, no obligation free estimate.