SuperSump® Premier Sump Pump System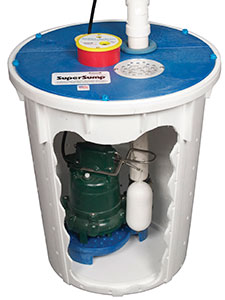 The Best Basic System
Top-rated 1/3HP Zoeller pump is designed for reliability & high-volume pumping.
Strong, airtight lid keeps out pests & debris and creates a child-safe installation.
Upgrade to UltraSump® performance by adding a second pump & battery backup. Clean & attractive appearance.
Other waterproofing products:
Looking for product pricing?
SuperSump® is only available from a certified installer in your area. Contact us to request an inspection & get a free cost estimate to have it installed in your home.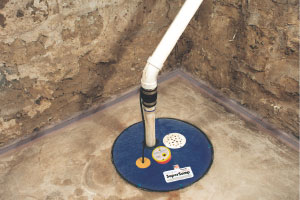 Quiet, powerful & reliable. The SuperSump® Sump Pump System has quality components inside and a clean, secure outside appearance.
Exceptional performance and value
An effective basement waterproofing system depends on a good sump pump -one that works well and lasts a long time. Many contractors sell and install sump pumps, and the price range can be enormous. How can you be certain you're getting a sump pump that won't fail from common causes like overheating and clogging?
Not just a sump pump, but a sump pump system
When you buy a Basement Systems sump pump, you get much more than a new sump pump. We sell, install and service patented Sump Pump Systems with innovative features designed to work together for top performance, year after year. Even our basic sump pump system, the SuperSump®, is a full-featured system that includes the best components available. Here's a quick rundown:
Top-quality components make a difference
SuperLiner® This premium plastic sump liner is the attractive alternative to an open sump pit. Perforations in the liner capture ground water, and a larger opening connects to the interior drainage system. The liner's airtight lid keeps out pests and debris, while also eliminating the safety hazard of an open sump pit.
Floor drain If a plumbing leak or other unforeseen accident puts water on your basement floor, a one-way floor drain in the SuperLiner's lid will allow this water to drain into your sump system.
WaterWatch® Alarm If a power outage, tripped circuit breaker or other malfunction shuts down your sump pump, this alarm will sound when water level rises above the sump pump intake.
Zoeller cast-iron, 1/3HP sump pump Inexpensive sump pumps with plastic housings are prone to overheating and burnout. We equip all Basement Systems sump pumps with powerful, top-quality Zoeller sump pumps. The unit installed in our SuperSump® is one of the best, capable of pumping up to 2280 gal. per hour.
CleanPump® pump stand This patented stand elevates the sump pump intake port to help prevent clogging, which is a common cause of pump burnout.
Check valve Installed in the drain line, this valve prevents pumped water from re-entering the sump pit.
Improved float valve Cheap "ball-on-wire" float valves are prone to snagging and other malfunctions. We use only linear-motion float valves for reliable, long-term performance.
Basic protection with super performance
SuperSump® sump pump is anything but basic, providing more than just a pump, but an entire sump pump system. Contact us to schedule a Free Estimate today
Our Basement Waterproofing Products
Looking for a price? Get a no cost, no obligation free estimate.