TripleSafe™ Sump Pump System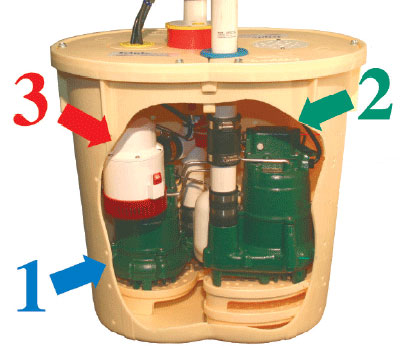 TripleSafe™ Sump Pump System Benefits
Three-pump system adjusts automatically to meet pumping requirements.
Battery-powered pump protects from flooding during power outages.
Heavy-duty Zoeller pumps provide durability & reliability.
Airtight cover reduces sump pump noise.
Clean, attractive finished appearance.
Other waterproofing products:
Looking for product pricing?
TripleSafe™™ is only available from a certified installer in your area. Contact us to request an inspection & get a free cost estimate to have it installed in your home.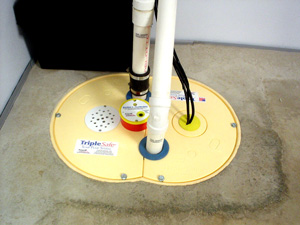 Clean, safe and certain. Attractive appearance is part of the package. The TripleSafe™'s airtight lid has openings for two drainage lines, a floor drain, electrical lines and a WaterWatch® alarm.
Keeping your basement dry in extreme conditions and power outages
We always knew that the TripleSafe™ Sump Pump System is the best sump pump available. But this value was confirmed many times over during Hurricane Sandy in October of 2012. Homeowners who had TripleSafe™ sump pumps were able to keep their basements dry while neighboring homes had severely flooded basements.
TripleSafe™ isn't just a sump pump. It's a sump pump system. TripleSafe™'s oversize plastic sump liner contains 3 sump pumps that can work together or separately depending on pumping demands. With the TripleSafe™ system, you don't have to worry about high pumping demands that can overwhelm or burn out single-pump systems. And if there's a power outage, your TripleSafe™ system will keep operating, thanks to a battery-powered backup pump.
We offer a full range of sump pumps to adjust to the severity of your wet basement problem. The different sumps operate to control different levels of water coming into your basement and the more pumps means more protection.
3 Pumps Make this System TripleSafe™
PUMP 1 is a heavy-duty, 1/3HP Zoeller pump that easily handles normal pumping volume -up to 2600 gal. per hour.
PUMP 2 is even more powerful (1/2HP) than PUMP 1. It comes on automatically if PUMP 1 fails or if high water flow calls for greater pumping volume -up to 6,200 gal. per hour.
PUMP 3 is a battery-powered pump that will run automatically if there's a power outage -over 11,000 gal. on a fully charged battery.
Be super-safe with TripleSafe™
If you're tired of losing sleep worrying about a flooded basement, the TripleSafe™ sump pump system will put an end to this anxiety. Contact your Basement Systems dealer today to learn more about this patented, high-performance system.
Our Basement Waterproofing Products
Looking for a price? Get a no cost, no obligation free estimate.