UltraSump Battery Backup Sump Pump System
A battery backup sump pump can keep your basement dry when your main pump fails
The UltraSump battery backup sump pump system protects your home from pump failures.
The number one reason why basements get wet or flooded after the installation of a waterproofing system is from sump pump failure. The UltraSump Battery Backup Sump Pump System helps to protect against this problem by standing ready to takeover in the event that the main pump fails for whatever reason.
Common reasons sump pumps fail to turn on:
Power outages that typically occur during heavy rains
Circuit breakers being tripped without anyone knowing
ON switch is stuck, tangled, rusted, simply fails to operate
Pump motor failure
The UltraSump DC-operated battery backup sump pump protects your basement from flooding if your power goes out, if your circuit breaker fails, or your main sump pump fails to turn on for any reason.
This is key: Unlike a car or marine battery, the battery supplied as part of the UltraSump backup sump pump system is specially engineered to withstand long periods of remaining unused. So if you're considering an alternate system, be sure that the battery connected to your sump pump system is not simply a car or marine battery, but rather one designed not-to-be-used for long periods of time.
Another important feature: The UltraSump also comes standard with a charging system to automatically recharge your battery once power has been reconnected to the system.
You can rest easy knowing the UltraSump is on the job, especially when you are away from home. Its outstanding gallon-per-minute output, automatic electronic "smart" charger, heavy-duty motor, and reliable switch are a winning combination.
Our proprietary back up sump pump can be installed with a local or remote alarm, so you will know when the primary pump is not functioning.
Each Basement Systems' sump pump basin (the patented SuperLiner) and its matching sump pump cover form airtight bonds and are much easier on the eyes. These airtight lids also help to quiet sump pump noise.
Features of the Battery Backup Sump Pump System
The air-tight sump pump cover of an installed SuperSump with an UltraSump battery back up sump pump.
Airtight basement floor drain (to drain water out of your basement in the event of an interior plumbing or other leak).
WaterWatch sump pump alarm (that sounds off in the event of pump failure for any reason, including a power outage).
"Smart" charger (to keep the battery charged when AC power is available. The smart charger has a lighted display to show battery status and an alarm to alert you to power failure).
Sump pump stand to keep the main pump out of any sediment that may get into the sump liner.
Clean, finished look that allows nothing to fall in and is strong enough to stand on.
The Importance of the Backup Pump Battery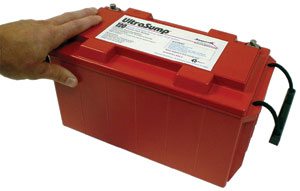 The UltraSump backup sump pump battery is designed to withstand long periods of unuse and still be ready to work when you need it. A second battery can be connected via a switcher for long periods of power outage.
When is the power likely to go out in your home? Right, during a storm.
A backup sump pump battery can be all the difference from a dry and wet basement or crawl space. At Basement Systems, we've engineered a backup battery designed to function after long periods of unuse, which is extremely important. With our battery backup system, you will no longer have to worry about your SuperSump sump pump failing during a heavy rain and power outage.
If your battery stands idle for 12 months, because you haven't lost power, and when you finally do lose power the backup pump doesn't come on because the battery is dead, then your basement is going to get wet.
Our 120 ampere hour backup sump pump battery is maintenance free, but will have to be changed every three to five years. Your local service technician will load test the battery each year during your recommended annual maintenance and let you know when the battery needs to be replaced.
Basement Systems is also the only waterproofing company with a switching device that enables you to have two batteries connected, doubling the total gallon output capacity. This is great for areas that lose power for extended periods of time. Ask your local dealer about all the back up sump pump options available to you.
If your sump pump doesn't look like this or have all these important features, it might be time to upgrade! All of our sump pumps, including the TripleSafe sump pump and the SmartSump sump pump come with the option of adding a battery backup pump.
Call 1-800-638-7048 to get one of the world's best sump pump systems for your home or to find out about our sump pump installations.
Looking for a price? Get a no cost, no obligation free estimate.