UltraSump® Battery Backup Sump Pump System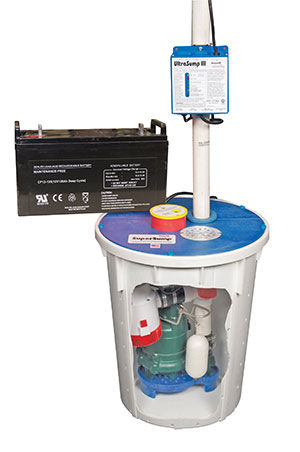 UltraSump® System Benefits
Heavy-duty Zoeller pump is designed for reliability & high-volume pumping.
Automatic switch turns on battery-powered pump if primary pump fails.
Battery-backup pump removes over 11,000 gallons on a fully-charged battery.
Smart charging system automatically maintains battery power.
Other waterproofing products:
Looking for product pricing?
UltraSump® is only available from a certified installer in your area. Contact us to request an inspection & get a free cost estimate to have it installed in your home.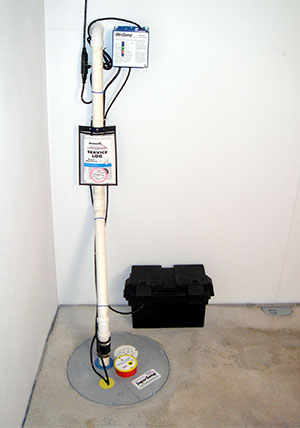 Attractive & effective. Your UltraSump® installation has a finished appearance that puts other sump pumps to shame. The airtight lid includes a one-way floor drain and a water level alarm.
Keeping your basement dry in spite of power outages and pump failures
The sump pump is the heart of any basement or crawl space waterproofing system. So why settle for a sump pump that might burn out or be overwhelmed by high pumping requirements?
The UltraSump® Sump Pump System was designed to handle "worst-case" waterproofing challenges that cause standard sump pumps to fail and basements to flood. Like the TripleSafe sump, our UltraSump® system comes with a built-in backup pump. This battery-powered pump will come on automatically if the primary pump isn't doing its job for any reason -a power outage, a jammed switch, or a circuit breaker that is accidentally tripped, for example.
Top-quality components make a difference
The UltraSump®'s pumps are housed in a tough plastic sump liner that comes with an airtight lid. Built into the lid are two other quality features: a one-way floor drain (important if there's a plumbing leak) and a WaterWatch® alarm. The alarm will sound if water level in the sump liner rises above pump intake level.
The UltraSump®'s primary pump -a 1/2HP Zoeller model-is twice as powerful as many other "primary" sump pumps. Zoeller pumps have the best reputation for reliability and long-term performance; that's why we use them.
All the components in the UltraSump® System are designed to work together to provide the best waterproofing protection, even under the worst conditions. We use pump platforms in the sump liner to prevent clogged intakes, and linear motion float valves that won't jam or snag like "ball-on-wire" valves. An estimate and consultation is a good way to see which pump is right for you.
Get ultimate protection with UltraSump®
The UltraSump® battery backup sump pump system will keep your basement dry, even during a power outage. Contact your Basement Systems dealer today to learn more about this patented, high-performance system.
Our Basement Waterproofing Products
Looking for a price? Get a no cost, no obligation free estimate.