SaniDry™ CX Crawl Space Dehumidifier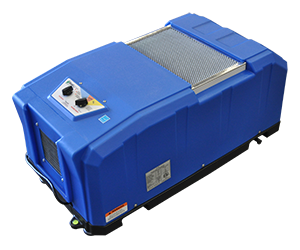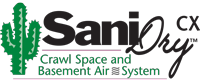 SaniDry™ CX Benefits
Provides dry, clean air
Eliminates risk of mold growth
Will never need emptying
Energy efficient
10x more powerful than traditional dehumidifiers
More Moisture Control Products:

Basement Dehumidifier

Crawl Space Sump Pump
Looking for product pricing?
The Sanidry CX is only available from a certified installer in your area. Contact us to request an inspection & get a free cost estimate to have it installed in your home.
A mold & rot free crawl space
The SaniDry™ CX is a dehumidifier system designed for crawl spaces, mid-sized basements or other spaces, with a coverage area of 2200 square feet under typical conditions. This unit is the industry's best for dehumidifying a damp, humid crawlspace.
The SaniDry™ CX is a compact, powerful dehumidifier that can remove 109 pints of water per day and can operate in temperatures as low as 40°F. This is an excellent choice for mid-sized basements and crawlspaces. If you need a larger dehumidifier, see the upright SaniDry™ XP Basement Air System.
The SaniDry™ CX is best used as part of the CleanSpace® Crawl Space Encapsulation System, which includes waterproofing and insulation services to keep your crawl space clean and dry and give you healthy air. Call your local Basement Systems dealer for a free estimate on all crawl space services.
| | |
| --- | --- |
| Specifications: | |
| Power | 700 watts @ 80°F and 60% RH |
| Air Circulation | 300 CFM |
| Weight | 86 lbs. |
| Capacity | 109 Pints/Day @ 80°F and 60% RH / Up to 2200 sq. ft |
| Dimension | width:20", height:15", depth:37-1/4" |
| Operating Temperature Range | 40-95°F |
| Ducting | Yes |
| Efficiency | Standard 65% Efficient, ASHRAE Dust Spot Test |
| EPA Energy Star Certified | Yes |
Get a free estimate on the installation of a SaniDry™ CX
Call us today to schedule a free estimate on installing a dehumidifier in your basement or crawl space. The SaniDry™ CX will keep your basement or crawl space free of humidity and provide a safe, comfortable environment in either area you wish to have it installed.
Our Basement Waterproofing Products
SaniDry CX™

Crawl Space Dehumidifier
Looking for a price? Get a no cost, no obligation free estimate.