Sump Pump Cover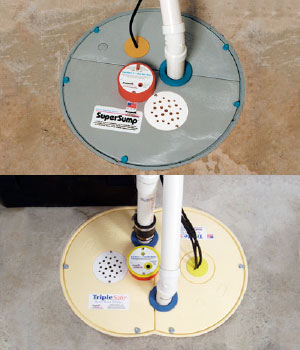 Great Cover Stories
Our sump pump covers are designed for an airtight fit over a plastic sump liner. Both the SuperSump® (left) and TripleSafe models have airtight covers that include WaterWatch® alarms and recessed floor drains.
Other waterproofing products:

ThermalDry® Floor Matting

SuperSump® Sump Pump System
Sump Pump Cover Benefits
Keeps moisture from evaporating into the basement.
Prevents odors & radon gas from permeating up into the basement from the sump pit.
Reduces sump pump noise.
Prevents people & objects from falling into the sump pit.
Reinforced plastic top is strong enough to support stored items.
Easy to remove for sump pump service or inspection.
Includes a basement floor drain to admit water from a plumbing leak or other source.
Gives the sump pump system an attractive finished appearance.
You CAN judge a sump pump system by its cover! At Basement Systems, every sump pump cover is a critical part of a well-designed sump pump system made from the best components available.
Why put up with an ugly and dangerous open sump pit when you can install a sump pump system that includes a study plastic sump liner with a matching airtight cover? Get a free estimate on installation and specific sump pump features, today!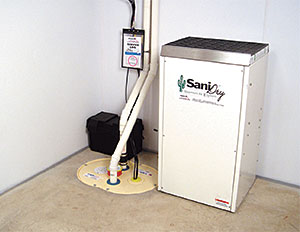 Get with the system. A total basement waterproofing installation can include a sump pump system equipped with battery backup (to keep working during a power outage) and a basement dehumidifier that removes mold spores and dust while drying basement air.
Get started with a free installation quote
Contact Basement Systems for a Free Estimate for any of our basement waterproofing products.
Our Basement Waterproofing Products
Looking for a price? Get a no cost, no obligation free estimate.