Sump pump installation
Doing the job right requires hard work, construction experience and access to top-quality products.
Sump Pump Installation Services from Basement Systems
Free inspection and evaluation of your existing sump pump and waterproofing system.
Free written estimates for sump pump services.
Sump pump replacement.
New sump pump installation.
Power outage protection with battery backup systems.
Basement sump pump installation.
Crawl space sump pump installation.
Is a sump pump the solution for you? If you regularly have water leaking into your basement during wet weather, the answer to this question is probably "yes." Some houses are built with sump pump systems, but many aren't.
What is a sump pump system, and who installs a sump pump?
A sump pump provides the pumping power in a basement waterproofing system that keeps the basement dry by relieving water pressure. Drain pipe (aka French drains) installed inside the basement along the edge of the floor collect water and convey it to a sump pit. A sump pump comes on automatically when water in the sump pit reaches a certain level, pumping the water outside the house.
Plumbers, basement waterproofing specialists (like Basement Systems contractors) and even DIYers can install sump pumps, although it takes specialized equipment, hard work and construction experience to install a complete sump pump system. Choosing the best sump pump for your needs is just as important as making sure it is installed properly.
SUMP PUMP INSTALLATION, STEP BY STEP
If your basement doesn't have a perimeter drain and sump pump system, this is what you can expect to happen to have a sump pump installed. The procedure is similar for a crawl space.
Jackhammer a perimeter drainage channel and sump pit. The best way to relieve the hydrostatic pressure that causes basement flooding is to "capture" ground water at the juncture where the foundation wall meets the concrete floor and transport this water to your sump pump. This is the noisy, messy part of the job. (Make sure you have a place and a plan for disposing of the fractured concrete.) It's also physically demanding. Jackhammer a drainage channel that extends around the edge of the basement floor. Then create a sump pit that extends about 24 in. to 30 in. below basement floor level.
Install drain pipe.The WaterGuard® drainage system from Basement Systems performs best in this application. Use clean gravel to position and surround the drain pipe as it's placed in the drainage channel. Slope the pipe downward slightly where it enters the sump pit to promote good drainage. For best long-term performance and improved appearance, a durable plastic sump liner should be installed in the sump pit (rather than leaving the pit unlined).

Trenching

Drain pipe

Sump pit with plastic liner

Patch the floor. Mix, spread and level patching mortar to cover the drain tile along the edge of the basement floor. If a sump liner is used, patch around the edge of the sump liner as well. NOTE: If the house has an active radon system, the sump liner should have an airtight cover through which the drain lines extend. Basement Systems sump pump systems all come with this feature.
Power up. It's best for the sump pump to have its own circuit. Install a GFCI-protected receptacle on the wall nearest the sump pump.
Install the exterior drain line. You'll have to drill a hole in the basement rim joist so that this plastic drain line can extend to the exterior. Connect the drain line to the sump pump's outlet port. NOTE: A check valve should also be installed in the exterior drain line, to prevent water from flowing back into the sump pump. All Basement Systems sump pumps include check valves.
Who is really the best sump pump installer?
Plumbers, DIYers and some home repair "handyman" contractors can all install sump pumps. However, these installers don't have access to the patented sump pump system products available from your Basement Systems dealer. When you hire Basement Systems to install a sump pump you won't have to worry about the mess or the quality of the product.
With over 25 years of basement waterproofing experience throughout the U.S., Canada and the United Kingdom, Basement Systems has the experience and resources to offer excellent value in this area. Our waterproofing systems look as great as they perform, and most systems can be installed in a single day.
Sump Pump Details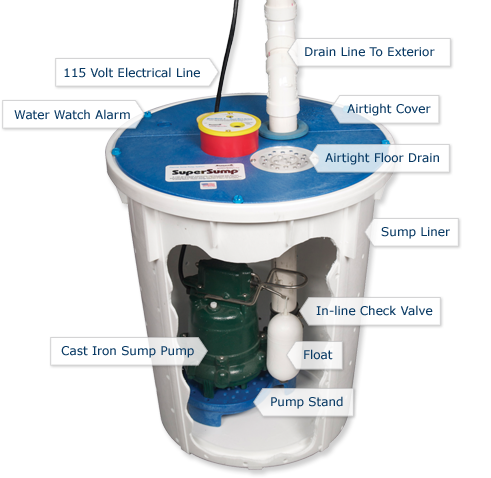 Looking for a price? Get a no cost, no obligation free estimate.