French Drains Keep Your Basement Dry
Despite the name, French drains are the product of American ingenuity. The first examples were developed by Henry Flagg French, a lawyer and farmer who lived in Concord, Massachusetts in the mid-1800s. Today French drains are used in many forms and go by different names, too. The French Drain System from Basement Systems is a collection of patented basement waterproofing products that work together to keep basements dry.
Also Known As
A French drain is sometimes also referred to as drainage tile, a rubble drain, a perimeter drain or weeping tile.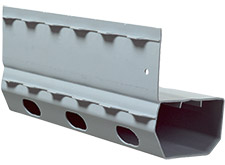 WaterGuard® drain pipe has a unique form designed to capture water that leaks through walls and along the floor/wall joint. Once installed, only the narrow top edge of the flange is visible.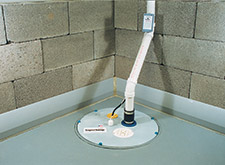 When French drains can't be installed below basement floor level, DryTrack® water containment channel will capture wall and floor-edge seepage to keep the basement floor dry.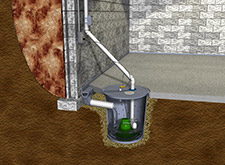 Our French drain system delivers all collected water to a sump pump that's housed in a patented plastic sump liner. The pump comes on automatically to expel water to the exterior.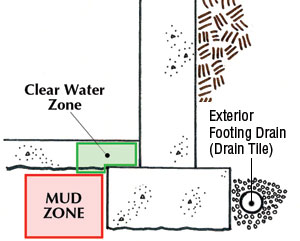 Clog-free drainage. Drain lines installed outside the foundation or in the "mud zone" eventually clog and stop working. The French drain system installed by Basement Systems won't clog because it's located in the "clear water zone" above the basement wall footing.
No more worrying about clogs with an interior french drain system
Wet weather saturates the soil outside your foundation. Water pushes against your basement walls just like the ocean pushes against the hull of a boat. This high hydrostatic pressure means that even a small leak can admit enough water to flood your basement.
French drains can lower hydrostatic pressure by providing ground water with an escape route. But as shown in the drawing, exterior french drains installed in the "mud zone" or outside the foundation are easily clogged with silt, mud and plant roots.
Basement Systems' WaterGuard® drainage system won't clog because it's located in the "clear water zone" above the footing. It's the best way to relieve hydrostatic pressure and keep the basement dry. Learn more about what makes our WaterGuard® system the best french drain available.
Contact Basement Systems to schedule a free waterproofing consultation and learn more about installing a perimeter drainage system in your home.
Looking for a price? Get a no cost, no obligation free estimate.