Innovation Awards
CT Quality Improvement Award Innovation Prizes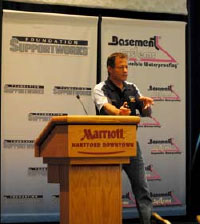 We thrive on innovation at Basement Systems! So it's with great pride, that we have accepted many Connecticut Quality Improvement Award Innovation Prizes (CQIA) over the years.
The Connecticut Quality Improvement Award is America's first state-level quality award that uses the Malcolm Baldrige National Quality for Performance Excellence criteria.
The Connecticut Quality Improvement Award's prestigious Innovation Prize is presented to organizations in Connecticut that have used innovation to create a new opportunity or solve an existing problem, and can demonstrate numerically the benefit to its business and customers.
Programs and products that have earned this distinction include:
"We are extremely proud and honored to be recognized as innovators in today's volatile business climate by an organization like CQIA. The Malcolm Baldrige criteria have been influential in our company's growth and success!"
~Dan Fitzgerald, Director of Marketing for Basement Systems
Our novel SaniDry™ XP Basement Dehumidifier earned the Silver award in 2010. The SaniDry™ XP Basement Air System lowers the relative humidity in a home to below 50 percent, which is below the level required for dust mites to thrive. The SaniDry™ XP has a 110-pints-per-day capacity, a built-in defrost system designed to operate down to 40F, and a direct gravity drain hose to a floor drain, WaterGuard®, or sump pump. It can also be drained directly outside if no other drain is present. The XP features a dual-stage filtration system and filters particles from the air as small as two microns (smaller than typical indoor air allergens such as mold spores or dust mite droppings), and an optional carbon filter is available to rid your space of those musty smells.
Previously, in 2009, we were recognized with the Gold award for our company's unique Treehouse office space. With a growing web department that was running out of space for desks, company president Larry Janesky decided to make a change. Rather than squeezing in more cubicles he took it to another level and turned the web department into a treehouse. Using recycled lumber and other natural products he and a group of volunteers (all employees) spent two weeks building a series of platforms and raised-loft workspaces. This fantasy kind of workspace received a gold honor and the CQIA judges ranked it in the top 20 submissions for the innovation prize. We also earned the Gold award in 2009 for Total Basement Finishing EverLast™ wall panels (and was ranked in the top 10 submissions!). The wall panels provide a reliable alternative to drywall or fiberglass and cloth panels. They don't grow mold and they are insulated.
We earned the Silver award in 2009 for new improvements made in the Basement Systems shipping department. The Basement Systems shipping department has made large strides to become more productive and efficient. CQIA recognized these improvements with a silver award in innovation. Remote controls with sensors over warehouse doors, video cameras and a decrease in paperwork were all innovations that made the shipping process at Basement Systems more efficient and successful.
Basement Systems Tech Top 40 Winner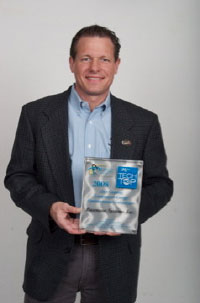 The Connecticut Technology Council (sponsored by UHY Inc.) identified Basement Systems as a 2008 Tech Top 40 winner for their work in Energy and Environmental Services.
These awards have been given out by the Connecticut Technology Council since 1997. They recognize the fastest-growing technology companies based on percentage revenue growth.
Basement Systems was honored during the UHY Inc. Tech Top 40 Awards Gala & Technology Showcase at the Chevrolet Theater in Wallingford.
U.S. Patents
Basement System's Inc. is an innovation company. If a solution is not readily available, we invent it. We own 30+ U.S. Patents and continue to innovate and lead the way for our industry.
Looking for a price? Get a no cost, no obligation free estimate.