Leadership Awards
Janesky Finalist for Executive of the Year in the 2011 American Business Awards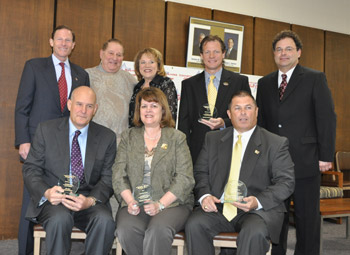 Larry with Sen. Richard Blumenthal and 2011 CT Business Hall of Fame Inductees
Basement Systems, Inc. founder and president Lawrence Janesky has added another distinction to add to his credentials. Janesky has recently been selected as a finalist for Executive of the Year in the 2011 American Business Awards®. The American Business AwardsSM, (also known as the Stevie® Awards), honor and generate public recognition of the achievements and positive contributions of organizations and businesspeople worldwide. Janesky was one of five finalists for Executive of the Year for companies between 100 and 2,500 employees.
The Stevie® Award winners were announced during the annual gala at the Marriott Marquis Hotel in New York City. More than six hundred executives from across the U.S.A. attended.
Learn more about the 2011 American Business Awards®
Larry Janesky is Connecticut SBA's Person of the Year
Larry Janesky, founder and president of Basement Systems, Inc., has been named the 2012 Connecticut Small Business Person of the Year by the U. S. Small Business Administration.
Larry Janesky has grown his business from scratch in 1982 to become the largest employer in Seymour, Connecticut, and continues to grow each year. The company is innovative, has an intense focus on quality and service, and has redefined their industries to provide what their customers really want.
Janesky is recognized as an authority on business start-up and growth, an acclaimed speaker and innovative leader, an inventor with over 30 patents, and the successful author of five books.
Janesky has been selected for this prestigious honor for "his outstanding work toward his customer base" said Bernard Sweeney, Connecticut SBA District Director. Mr. Sweeney went on to say that the company's basement repair and finishing services offer "an alternative for young families, the option of expanding their home without moving."
Early in his career, Janesky saw the need for basement waterproofing when one of the houses he built developed a cracked foundation wall that was leaking water into the basement. From this single observation and determination to find a solution, Janesky has grown his basement waterproofing and repair company into an award-winning, successful enterprise with 345 dealers in six countries.
While building a successful organization using his intuition, technology, and hard work, Janesky has designed a fun place to work and to innovate. His business model, a philosophy actually, focuses on outstanding customer service, well-trained employees, and the development of businesses and their owners.
In addition to securing patents for dozens of innovative products, Basement Systems, Inc. has earned numerous awards for customer service and integrity including being a finalist for the Better Business Bureau's National Torch Award for Marketplace Ethics and a three-time recipient of the same award from Connecticut's BBB. Janesky represented Connecticut during National Small Business Week in May when all state and territory winners gather in Washington D. C.
Read the full article Connecticut SBA's Person of the Year.
The Call to Write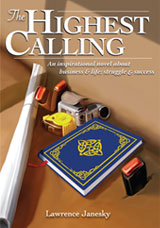 When Larry is not busy running a successful business, he is sharing his insights on business and energy through his books. His latest business motivational book, The Highest Calling, has been recognized by the Indie Excellence Book Awards as the best business/motivational book in 2011.
Another one of his other books, Saving Energy and Money at Home, has been chosen as the runner up in the Green Book Festival in the "How To" category.
He is also the author of a series of books entitled: Crawl Space Science, Dry Basement Science, Foundation Repair Science, and Basement Finishing Science.
Janesky Named in Top 5 Influential Entrepreneurs for Inc. Magazine
Recently, the editors at Inc. Magazine asked six different business experts to pick their top five most influential entrepreneurs of the past 30 years. Experts chose famous figures such as Steve Forbes, Bill Gates, Oprah Winfrey and Bono.
Well-known author and marketing expert Tom Peters contributed his list to the article, which included Basement Systems Founder and President Larry Janesky.
He wrote the following piece about Larry: "I love the notion that you can have a fabulous business based on cleaning mold out of basements. Larry has a saying, 'You don't have to love what you do; you have to do what other people hate.' He executes like a champ."
Read the Top 5 Influential Entrepreneurs
Basement Systems President Named Businessperson of the Year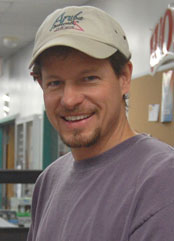 The president and founder of Basement Systems Inc., Larry Janesky, has been honored as Businessperson of the Year by Business New Haven's Annual Business and Civic Awards.
Business New Haven also honored other local businesspeople in categories such as Innovator of the Year, Small Businessperson of the Year, and Corporate Citizen.
The awards are sponsored by Specialized Packaging Group, Anthem, UHY, LLP. The winners were honored at a banquet, as well as in a special issue of Business New Haven magazine.
Accepting the award at the March 5 awards ceremony at Amarante's in New Haven, Janesky shared the following remarks about his career, his success and his ten rules to live by.
People tell me I have a great story; I'm not so sure. It seemed fairly logical as it unfolded in the 27 years since I graduated high school. So how did I do it? Well, I'm going to call it like I see it.
1. Hard work. It's not easy. And those who look for it to be easy will not make it - and will be disappointed. Discipline is an indispensable quality that you need whether you like it or not. There is no free lunch. I think mental toughness is a good thing and we need more of it.
Read the other nine rules to live by Larry's Ten Rules to Live By
Looking for a price? Get a no cost, no obligation free estimate.