How Can You Deal with Mold Growth?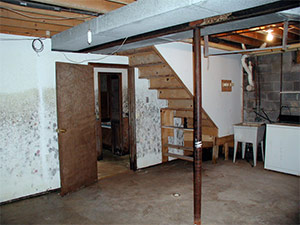 Mold removal, testing, and prevention should be left to a professional licensed in this work. They will be equipped to protect themselves and you from the potential hazards mold can present.
Professionals should be licensed for the mold remediation service they offer. You should receive a written contract that spells out what services or products you are purchasing, what warranties are offered, and what standards will determine the success of the project.
A successful mold reduction program will include:
Eliminating water infiltration (both water and vapor)
Careful and thorough cleaning
Incorporation of non-organic building products
Ongoing monitoring and control of relative humidity in crawlspace or basement
Eliminating water
Ridding your home of excess water and moisture begins with channeling away ground water. If there is standing water in your basement or crawlspace, getting rid of it is your first priority.
Doing so may involve the installation of an interior perimeter drain systems, such as the WaterGuard® drainage system that's patented by Basement Systems. It also means a thorough inspection of your plumbing system for leaks.
Cleaning mold
Many people believe that mold is not a big deal. Just use bleach to clean it up and forget about it. Unfortunately, bleach (sodium hypochlorite) doesn't completely kill mold when used upon porous materials. Water in the hypochlorite penetrates below the surface while the bleach is left on the surface and eventually gases off into the house. The root of the mold fungus that's below the surface regenerates again over time. In addition, the bleach leaves behind trace amounts of nitrates where they become the fertilizer for the next mold generation or spores that land there. Professionals will know which products are the most effective and know how to protect themselves from exposure to mold.
Mold-proof building materials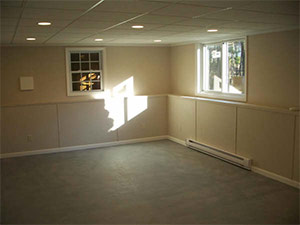 Our patented products are waterproof and moisture resistant to combat mold growth
Organic materials are made of substances that were once alive, such as trees, paper, cotton, wool, latex (rubber), and leather. Where we find drywall, wall coverings, paint, trim carpentry, carpet and flooring materials, we often find organic materials. When organic materials get wet, mold and rot can follow.
It's not a new idea to use inorganic materials in places that may get wet. In places like kitchens and bathrooms, for example, we use ceramic, porcelain, stainless steel, chrome, laminates, and stone.
In places like basements and crawlspaces, that can be wet from a groundwater leak or a plumbing leak, or have high relative humidity (RH), it makes sense to use plastic foam insulation instead of plywood, wood studs, wood molding, paper-backed fiberglass batts, and drywall. In fact, a system called Total Basement Finishing, remodels basements with all organic materials. If there were a foot of water in a TBF basement, you would pump it out and let it dry. Nothing would be ruined and there would be nothing for mold to grow on.
Dehumidification
Basement and crawlspace dehumidification ensures that relative humidity levels stay below 70, the RH percentage above which mold grows. Unfortunately, not all dehumidifiers are up the task. Many are only designed to serve areas of 500 to 1500 sq. ft. If your basement or crawlspace is medium to large in size, choose a dehumidifier that will handle the job. In addition, keep in mind that many dehumidifiers are designed to operate in warm temperatures. In fact, they are tested in a chamber at 80 degrees. It's easy to dehumidify air that is 80 degrees because it's 48 degrees over freezing. Crawlspace and basement temperatures, however, are more typically in the low 60s during the summer – a lot closer to freezing. Few dehumidifiers are designed to work well at lower temperatures. The SaniDry™ Basement Air System and the SaniDry™ CX CrawlSpace Air System dehumidifiers are designed to work at these temperatures. Many other features, including a heat exchanger, large capacity blower, and specially designed refrigeration system make them about 10 times more efficient than a standard household dehumidifier. Furthermore, they remove water for about 3.3 cents of electricity per pint compared to 11 cents per pint for a standard household model.
Looking for a price? Get a no cost, no obligation free estimate.