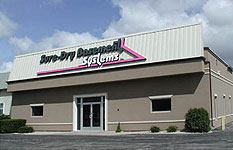 Sure-Dry Basement Systems is a Basement Systems dealer in Wausau, Marshfield, Oshkosh, Appleton, Green Bay, Rhinelander, and the Ashland, Wisconsin areas.
Sure-Dry Basement Systems offers Basement Waterproofing services, including:
Perimeter drainage systems
Sump pump installation
Waterproof wall and floor products
Wall and floor crack repairs
Replacement windows
Water heater flood protection
Frozen discharge line prevention
And FREE estimates!
Since 1994, we have been helping homeowners with their wet basement, foundation, and crawl space problems. If your basement is wet, the
basement walls
are cracking vertically or horizontally, or your foundation is sinking, we have the answer to your problem. Stone, brick, block or poured basement walls and floors can be given a customized
basement waterproofing
solution to make it dry, warm and comfortable with our proven technology and quality workmanship. Our building houses our well-stocked warehouse, our production equipment, and provides a home base for our numerous full time construction crews. It also houses our extensive service department, a unique feature that separates Sure-Dry from most other
Greater Green Bay basement contractors
.
Being one of Basement Systems' first dealers, Sure Dry Basement Systems has consulted with thousands of homeowners with Basement Waterproofing Wisconsin needs, designing effective solutions for every one of them, drying their wet basement or fixing their dirt crawl space. The company is a trusted and valued member of the Basement Systems network and upholds the standards of the company and many employees have earned the esteemed title "CERTIFIED Waterproofing Professional". If you're in Appleton, De Pere, Fond du Lac, Green Bay, Manitowoc, Neenah, Oshkosh, Stevens Point, Wasau, or any of the surrounding areas in Wisconsin, we'd like to help you!