Hydrostatic Pressure on Basement Walls
When water pressure increases, so does the potential for leaks into your basement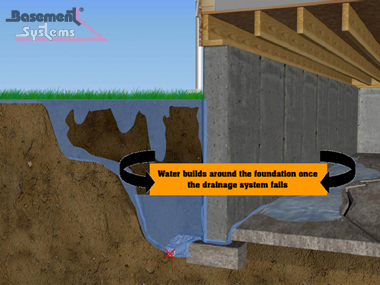 Water will always find an opening. Hydrostatic pressure can easily drive ground water into the basement through gaps and cracks in the masonry. High water pressure can also cause seepage through sold concrete.
"Hydrostatic Pressure" refers to water pressure and it's a major cause of basement water problems. Water weighs slightly more than 60lbs. per cubic foot. Sixty pounds per cubic foot translates to tremendous pressure on your foundation If the soil around your basement is saturated with water, there could be tens of thousands of pounds of hydrostatic pressure on your foundation. With this much pressure, even the smallest crack or gap can admit plenty of water into your basement. Just as water leaks out of a punctured bucket, water will leak into your basement when there is a crack, especially given the amount of water pressure being exerted.
Relieve hydrostatic pressure instead of fighting it
Even a well-constructed basement foundation can't provide a perfect barrier against hydrostatic pressure. Interior drainage systems, like our patented WaterGuard® interior French drain, collect water where the basement floor meets the basement wall. By not relying on outside drains that can clog with silt or roots, interior systems work continuously to channel water to a connected sump pump. With a high-quality sump pump system, collected water is automatically ejected to the outside.
Looking for a price? Get a no cost, no obligation free estimate.