Crawl Space Learning Center
About 27 million homes in the U.S. have been built on a crawlspace. With 15 to 20 percent of new homes continuing to be built on crawlspaces, the number grows. Unfortunately, most of those crawlspaces were built based on old, flawed ideas. As a result, many of these homes are suffering from a variety of problems. They include excessive moisture (and all that comes with it: mold and mildew, wood rot, corrosion, poor indoor air quality, and insect and pest infestation) and excessive energy loss (cold floors, high fuel bills, and greater wear and tear on HVAC equipment).
Most of these problems are due to one-size-fits-all building codes, cost-cutting construction practices, inadequate waterproofing, and insufficient air sealing and insulation. Fortunately, building scientists have revised their thinking about crawlspaces and have devised ways to eliminate or at least minimize the ills associated with crawlspaces. Codes are changing as well. For a full understanding about how to improve your crawlspace, review the pages that follow.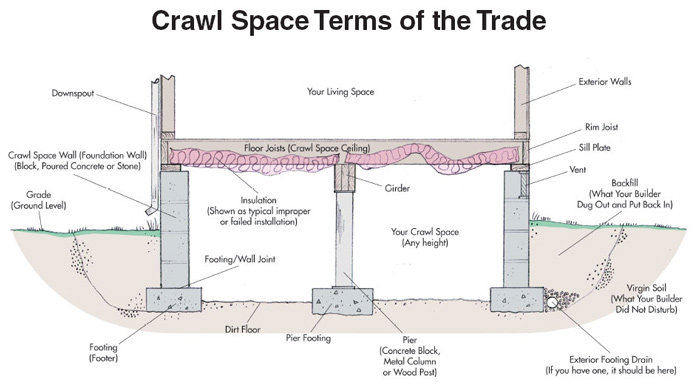 Learn about the components of a typical crawlspace.
---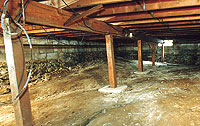 The practice of building dirt crawlspaces with open vents represents the old way of installing a crawlspace. New Crawl Space science debunks this old way of thinking and proves that there are superior, healthier ways. Discover how your crawlspace is affecting your indoor air quality and health.
---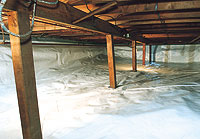 Crawl Space encapsulation is the New Crawl Space Science and the CleanSpace® Crawl Space Encapsulation System is the solution. Here's a brief overview of how you can repair your Crawl Space and make it a healthy environment. From Crawl Space Air Quality Control to Crawl Space Moisture and Crawl Space Humidity, learn about it here and follow up with a Free Inspection and Estimate from your local CleanSpace® dealer!
Looking for a price? Get a no cost, no obligation free estimate.