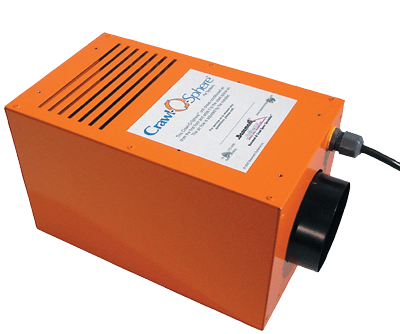 Crawl-O-Sphere™ Air System Benefits
Compact and easy to install between floor joists.
Quiet operation and low power consumption.
Effective way to remove excess humidity from crawl space.
Helps to keep first floor warmer and more comfortable in winter.
Designed to work with your home's existing HVAC system.
Crawl-O-Sphere® Crawl Space Fan
Looking for product pricing?
Crawl-O-Sphere® is only available from a certified installer in your area. Contact us to request an inspection & get a free cost estimate to have it installed in your home.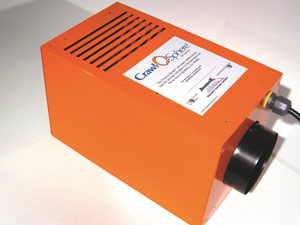 Air power. By moving air from your upstairs living space into your sealed crawl space, the Crawl-O-Sphere™ fan will help to normalize temperature & humidity conditions in the crawl space. This will protect your home from mold & moisture damage, while also improving comfort and energy efficiency.
Controlling humidity in the crawlspace after encapsulation
Sealing or encapsulating your crawl space brings this space into your home's "building envelope," the interior space that's protected from outdoor conditions by insulation, framing, siding and other building materials.
But if your crawl space was vented before, there may be excess moisture stored in crawl space joists, beams and sheathing.
How can you remove excess crawl space moisture, and get better control over crawl space temperature & humidity?
When installed with the CleanSpace® Encapsulation System, the Crawl-O-Sphere® Air System from Basement Systems can give you a warmer, drier, and healthier crawl space.
How Crawl-O-Sphere® works
One way to improve crawl space conditions following encapsulation is to install the Crawl-O-Sphere® crawl space fan. This compact air-management device blows dry, conditioned air from your first floor living space down into the crawl space. The air returns to the main living space via gaps around ductwork and plumbing penetrations and through other openings as well.
Installing the Crawl-O-Sphere™ requires a small hole to be drilled through the finished flooring in an out-of-the-way location on the first floor of your house. A round register is then installed.
The Crawl-O-Sphere™ fan works with your home's HVAC system to remove excess crawl space moisture. During cold winter months, you get another benefit: warm air blown into the crawl space by the fan will help keep your first floor warmer.
If moisture is present in your crawl space, we recommend installing the SaniDry™ Crawl Space Air System. Learn more about our energy-efficient crawl space dehumidifiers and our wide range of crawl space products.
Request a free crawl space inspection & estimate
To have your crawl space inspected by an authorized Basement Systems dealer and for a Free Estimate, contact us today!
Looking for a price? Get a no cost, no obligation free estimate.