Basement Flooding Repair
"Basements Kept Dry During a Hurricane! Watch the video to see how our waterproofing solutions performed when put to the ultimate test.
How to deal with basement flooding and make sure it doesn't happen again!
Basement flooding is a nightmare for any homeowner. Apart from making your basement unusable, a basement flood can ruin many items and create a serious safety hazard.
When you need water removal services and repair for basement water damage, always trust a basement waterproofing specialist. They have the tools and skills necessary to excavate all traces of water and return your basement back to a safe, dry environment.
Your basement could be leaking due to a number of things. Take a look at the list below to see what causes basement flooding and the four steps you should take towards recovery.
If you need assistance with basement flooding, you can also contact a local Basement Systems dealer in your area for a free estimate on flooded basement repair.
Causes of basement flooding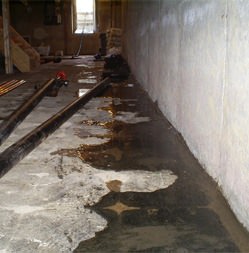 Basement Flooding. It's important to waterproof your basement before a flood to prevent permanent water or mold damage.
Plumbing leaks
This could be a burst or leaking pipe, a leaking waste line, a broken supply hose for your washing machine, or a leaking water tank or water heater.
Leaky basement windows
If your window wells fill with water (from a flooded yard or clogged gutters), don't be surprised if water leaks into the basement through and around the windows.
Leaky basement foundation
This is by far the most common cause of basement flooding. Fortunately, it's a problem that Basement Systems can solve by installing a warrantied, industry-leading waterproofing system.
A smart, safe, 4-step response to basement flooding
Step #1: Stay SAFE!
Don't risk serious injury if your basement floods. A flooded basement can be a serious health and safety risk. If your basement floods, follow these rules to make sure your family stays safe.
Avoid venturing down into the basement if possible. In a severe basement flooding situation (water covering the basement floor to a depth of an inch or more), it's best to stay out of the basement until the water is pumped out. Standing water in your basement can contain harmful bacteria.
Never touch electrical wiring or fixtures. If you must venture down into a flooded basement, wear waterproof rubber boots. Avoid touching or using electrical devices (except for a battery-powered flashlight) because this puts you at risk of electrical shock or electrocution.
Have standing water pumped out as soon as possible. Your local Basement Systems dealer can recommend a professional who will pump standing water out of your basement, and possibly help you deal with water-damaged items and materials as well.
Step #2: Determine the cause of your flooded basement.
Sometimes the source of unwanted water is obvious –as with a burst water line, for example. In other cases, water may be leaking into your basement in different areas (see "Possible causes," at right). After the water has been pumped out of your basement, contact an expert at Basement Systems for a free waterproofing inspection and estimate. Your Basement Systems technician will explain what causes basement water problems, and how a waterproofing system works to keep your basement dry.
Step #3. Remove water-damaged items.
Are there wood-framed walls finished with drywall in your basement? If so, the lower section of these walls is likely to retain moisture and attract mold –even without a major basement flood. Talk to your Basement Systems expert about our innovative EverLast™ half-wall replacement system, which enables you to replace only the moisture-damaged and mold-prone lower wall section with an attractive and waterproof wainscot treatment.
Step #4. Install an effective waterproofing system.
The patented perimeter drain and sump pump system available exclusively from Basement Systems is the most effective basement waterproofing system available. Our sump pumps are designed to handle major water volume and we have battery backup systems available to keep your basement dry during a power outage.
Don't wait for a flood to protect your basement
Even a single basement flooding experience is one too many. To avoid such a disaster, call your local Basement Systems contractor today to request an on-site inspection and get a free estimate for the basement waterproofing services you need.
Looking for a price? Get a no cost, no obligation free estimate.