Basement Insulation
Keep your basement comfortable & avoid condensation and mold
Basement Insulation Benefits
No more damp, cold floors and walls.
Lower humidity and more effective humidity control.
More comfortable temperatures in the basement.
Basement Systems products provide insulation PLUS backing for finished flooring and wallboard.
Products are made from inorganic materials that will not grow mold.
Basements have a bad reputation as cold, damp, dark, uncomfortable places. It doesn't have to be that way. The first priority in any basement will always be to install a first-class waterproofing system. Once this is done, many homeowners focus on basement insulation.
To get all the benefits of basement insulation, it's important to have the right kind of insulation installed, in the right way.
Basement Systems offers exclusive insulation products that are designed specifically for the basement to provide you with long-lasting performance.
Avoid using fiberglass insulation
Many basements already have insulation -in the form of fiberglass batts, installed between basement ceiling joists. Unfortunately, this treatment only insulates the upper part of the house; it does nothing to improve your basement.
Fiberglass batts shouldn't be used to insulate finished basement walls because they can absorb moisture and attract mold. When damp, fiberglass insulation will compress and fall out of place, actually doing more harm than good.
Innovative insulation designed just for basements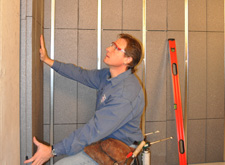 Warmer walls. Basement to Beautiful® wall panels include steel nailing flanges that make it easy to attach finished wallboard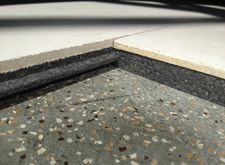 Better basement floors. ThermalDry® floor decking combines high-performance rigid foam insulation with waterproof composite underlayment.
Our basement insulation products are made from rigid foam, which outperforms fiberglass in important ways.
Unlike fiberglass batts, rigid foam insulation won't absorb moisture, compress, lose R-value or fall out of place. Rigid foam also has another important property that fiberglass lacks: It can stop drafts and other air leakage.
For the best performance and long-term value in basement insulation, we recommend these two innovative products:
Basement to Beautiful® basement wall insulation. Each 2-in.-thick panel is made from high-performance SilverGlo® rigid foam insulation that includes built-in wiring channels (for electrical outlets & switches) and steel nailing flanges that make it easy to install finished wallboard. Basement to Beautiful® panels are installed directly against your foundation walls, taking up less room than 2x4 walls but providing greater R-value in a mold-proof, waterproof assembly.

ThermalDry® Insulated Floor Decking™. Designed to be the perfect floor underlayment system, these panels combine a base of 1-in.-thick SilverGlo® foam insulation with a waterproof composite board that can serve as subflooring for carpeting or other finished flooring. ThermalDry®® Insulated Decking can make your dream of a warm basement floor into reality.
Call 1-800-638-7048 or fill out our Free Estimate form to schedule a free consultation with your local Basement Systems dealer. Ask about our award-winning basement waterproofing products.
Looking for a price? Get a no cost, no obligation free estimate.