Basement waterproofing costs
Basement waterproofing costs depend on…
Basement size
Finished walls that may need to be partially removed (and then restored) to install drain lines
The cost of the sump pump
The cost of the dehumidifier (if one is installed)
How much should you pay for a dry basement? Size matters, but other factors are also important.
If you've ever dealt with a flooded basement, you know how messy, damaging and disruptive it can be.
Knowing that your basement will stay dry no matter how wet it gets outside definitely gives you a good feeling. But how much should you have to pay for that feeling? Keep reading to learn the details that determine basement waterproofing costs.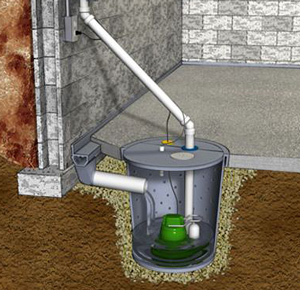 Your waterproofing estimate begins with linear foot measurement
As you might expect, the size of the basement is a major factor in basement waterproofing cost. As shown here, the patented Basement Systems waterproofing system includes an interior drain line that is installed along the edge of your basement floor and a sump pump that automatically pumps collected water to the exterior.
Our estimating process begins by determining how many feet of WaterGuard® drains must be installed.
It costs more to waterproof a finished basement
A finished basement can present some obstacles to technicians installing drain lines, in the form of finished walls that have been constructed inside foundation walls. To access the edge of the basement floor slab (where the floor meets the foundation wall), it will be necessary to remove the lower section of some finished walls.
In most cases, the lower sections of these walls have already been damaged by basement moisture, so they need to be replaced anyway.
Our EverLast® wall system saves you money by replacing only the damaged lower section of wall, using materials (steel studs, rigid foam insulation, cement board) that won't attract mold or be damaged by moisture.
The best sump pump costs more, but most homeowners discover that it's worth every penny
Since the sump pump plays a critical role in this waterproofing system, you'll want one that can function in even the most extreme conditions, despite the amount of water in the basement. Basement Systems has the best sump pump systems in the waterproofing industry.
Because severe storms can cause power outages as well as high water levels, we recommend installing a sump pump system that includes a backup battery. Our TripleSafe® and UltraSump® sump pump systems will continue to operate during power outages. It's worth it to pay extra for this protection.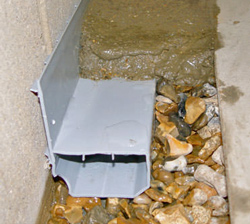 A proven waterproofing system. Hidden perimeter drain lines capture water before it reaches the basement floor, and transport it to a sump pump that pumps the water outside.
Don't forget dehumidification
Even with an effective waterproofing system, it's possible for basement humidity to be high because of how much moisture can be absorbed and released by your masonry foundation. To keep the basement comfortable and to discourage mold and dust mites from making a home in your basement, basement humidity levels should be kept below 60%.
That's what a basement dehumidifier is designed to do. SaniDry® dehumidifiers from Basement Systems are ENERGY STAR® rated for efficient, reliable performance. A SaniDry dehumidifier automatically maintains the humidity level you select, and can drain directly into your sump pump.
Consider basement windows too
Depending on the age and design of your house, water may be leaking into your basement through gaps and cracks around old basement windows. You may want to replace leaky, inefficient single-pane basement windows with new windows that have vinyl frames and insulated glass.
Basement Systems can install top-quality replacement windows in your basement, and also durable vinyl window wells. Unlike steel window wells, our vinyl window wells will never rust or require painting. Also, each vinyl window well comes with a clear acrylic cover that prevents water from filling the window well.
Go with the pros! Basement Systems has over 25 years of experience in dry basement technology. Our patented basement waterproofing products and solutions for finishing your basement provide better performance and value that "off-the-shelf" products from other contractors. Call or email today for a free basement inspection and waterproofing estimate.
Looking for a price? Get a no cost, no obligation free estimate.