Downspout Extensions
Get proper protection against a wet basement with smarter roof drainage
Downspout extensions form your first line of defense against basement flooding. By channeling roof runoff away from the house, these drainage devices reduce hydrostatic pressure against the foundation. Downspout extensions are also effective in preventing the erosion of soil, mulch and ground covers from around your house.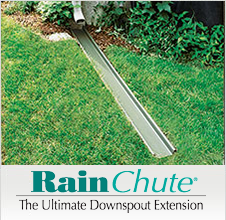 RainChute® is installed so that drain edges are flush with the ground.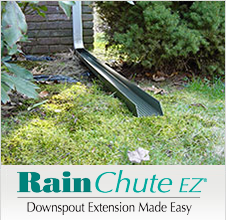 RainChute EZ® rests directly on the ground for quick and easy installation.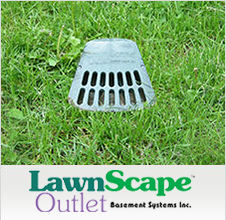 LawnScape™ Outlet provides a daylight outlet for buried 3-in. drain pipe.
Get an estimate to extend your downspouts
Protect your basement, your lawn and your landscaping with quality downspout extensions from Basement Systems. Call us or contact us online to find a local dealer in your area.
Choose the extension that suits your needs
ADVANTAGES of our Downspout Extensions
Different extension styles provide installation flexibility.
Compatible with 3-in. or 4-in. downspouts.
Suitable for use over grass or other ground covers.
Durable, high-strength plastic construction.
Easy to install.
Easy to keep clean.
Extensions can be cut to length or ganged together, depending on drainage requirements.
When it comes to keep water away from your foundation, you can count on the experts at Basement Systems for effective basement waterproofing solutions. The landscape details around your house call for different drainage requirements. That's why we offer three different downspout extensions.
Use RainChute EZ® to extend drainage over different ground covers (like mulch and grass), or wherever you need a downspout extension that can quickly and easily be moved out of the way.
RainChute® has a low profile that enables you to set the top edges of the extension flush with the surrounding ground. Your lawn mower can go right over this recessed drainage channel.
When a downspout is connected to underground drain pipe, use the LawnScape™ Outlet at the daylight end of this drain line. The LawnScape™ Outlet is designed to mount on standard 3-in.-dia. drain pipe. The grated lid keeps rodents and debris from entering the drain pipe, and it can be easily removed if the drain line ever needs to be cleared. LawnScape™ Outlet works equally well at the end of a sump pump discharge line.
Looking for a price? Get a no cost, no obligation free estimate.