DryTrak® Interior Drainage Channel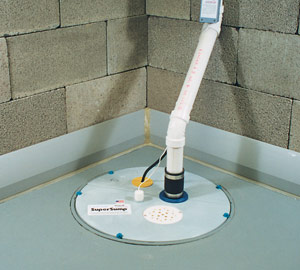 DryTrak® Drainage Channel Benefits
Best interior drainage system for use on monolithic slabs that include a foundation wall footing.
No jack hammering of slab necessary for installation.
Faster and less expensive to install than exterior drainage systems.
Designed to work with high-performance sump pump systems from Basement Systems.
More Drainage Products:
Looking for product pricing?
DryTrak® is only available from a certified installer in your area. Contact us to request an inspection & get a free cost estimate to have it installed in your home.
Prevents flooding by controlling water leaking into basement
The major leakage zone in any basement is the perimeter, where basement walls meet the slab floor. Ground water that seeps through basement walls will flow down toward the floor.
Hydrostatic pressure during wet weather will often force ground water into the basement along the wall-floor joint. DryTrak® drainage channel is designed to capture this water leakage before it reaches your basement floor.
The base of the DryTrak® drainage channel is sealed to the basement slab floor with a special epoxy adhesive. The tilted top section of the DryTrak® profile is designed to maintain a narrow opening along the channel's top edge, so that wall seepage can flow down into the drainage channel.
When combined with a high-performance sump pump system from Basement Systems, DryTrak® drainage provides an effective, worry-free solution to basement water problems.
DryTrak® is compatible with all foundation wall types, and it will perform equally well on basements of different sizes and shapes. Our well-trained crews are often able to complete a DryTrak® installation in a single day.
Basement Systems offers a variety of basement drainage systems to meet all your waterproofing needs.
Contact us to repair your leaky basement
Here at Basement Systems, we're experts at finding basement leaks and fixing them. Water seepage along where the floor meets the wall is common, and we offer a superior solution to the problem. Contact your local Basement Systems waterproofing contractor to install the DryTrak® drainage system in your basement!
Our Basement Waterproofing Products
Looking for a price? Get a no cost, no obligation free estimate.