IceGuard™ Anti-freezing Sump Pump Discharge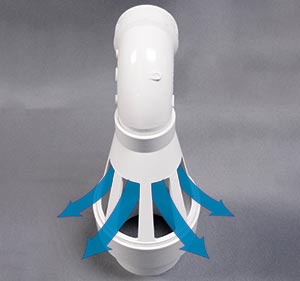 IceGuard® System Benefits
Allows water to escape when discharge line is frozen
Prevents basement flooding in cold weather
Completely maintenance free
Easy installation
More Basement Waterproofing Products:

Tripple Safe Sump Pump

Downspout Extensions
Looking for product pricing?
The IceGuard® system is only available from a certified installer in your area. Contact us to request an inspection & get a free cost estimate to have it installed in your home.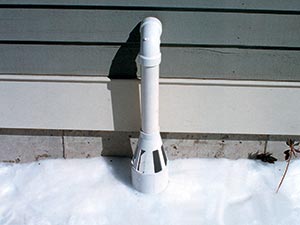 A frozen discharge line won't flood a basement with IceGuard.
IceGuard® prevents backups in the sump pump caused by freezing lines
Sump pump discharge lines can freeze, especially in the northern regions. Pipe terminations can become covered with snow and ice in the winter. This can spell disaster for your basement if the sump pump water cannot exit the line outside. You'll have peace of mind with the patented IceGuard® sump pump discharge line system!
The IceGuard® system allows water to escape from a sump pump discharge line if the pipe freezes or becomes blocked for any reason. Even if the pipe outlet is buried under a foot of ice and snow, the water can escape, allowing your sump pump to keep your basement dry. When the discharge pipe thaws, the water will automatically run along its normal route, and no water will escape from the IceGuard. There are no valves to turn, hoses to attach, or anything for the homeowner to do at all - it's totally automatic!
The photo shows a home that was saved by the IceGuard® sump pump discharge anti-freeze device. When the discharge line was covered by snow and ice and frozen solid, blocking water from escaping out of the pipe, the IceGuard® allowed the water to escape during repeated pump cycles. IceGuard® saved this basement from getting flooded even in these extreme conditions!
The patented design of the IceGuard® automatically allows water to escape through its perforations. This unique feature provides an exit when pipe terminations are blocked, usually by ice or snow. A sump pump check valve prevents the water that's in the discharge line from entering the sump pump basin after the pump has been turned off.
The IceGuard® anti-freeze device is just one of the many sump pump features offered by Basement Systems. IceGuard® can be added on to any of our sump pump systems, including the SuperSump, SmartSump, and TripleSafe.
Call today for more information on basement waterproofing products and services, including a free estimate on having IceGuard® installed.
Our Basement Waterproofing Products
Looking for a price? Get a no cost, no obligation free estimate.