CleanSpace - Crawl Space Vapor Barrier
CleanSpace® Benefits
Durable 25-year warranty
Reduces moisture & relative humidity
Combined with drainage matting, creates a space for water drainage
Combined with SilverGlo™ insulation, heat loss through crawl space walls is reduced
Combined with SilverGlo™ Insulation, TerraBlock™ Insulation and drainage matting, both walls and floor are insulated to save the most money.
The CleanSpace Crawl Space Liner is a 20-mil crawl space vapor barrier that is installed on the floors and walls of a crawl space area.
It's also suitable for dirt basements, basements that have very uneven walls and floors, or basements with an enormous rock or similar unmovable object in the space.
Once installed, this 20 mil vapor barrier completely stops moisture from passing through to the home, including moisture from the dirt below and water vapor from dirt and concrete walls.
When combined with an airtight crawl space vent and/or door, the vapor barrier system will also protect your crawl space or basement from outside moisture and humidity that would otherwise pass in through openings in the crawl space walls (such as crawl space vents and openings around pipe penetrations).
Crawl Space Encapsulation System - CleanSpace is Green
Vented dirt crawl spaces are huge energy wasters. In the winter, freezing cold air can enter into your home, making your floors and air in your home cold which will cost you more in higher heating costs. In this feature video, learn how Cleanspace can help reduce your energy costs, increase property value and have a positive environmental impact.
The CleanSpace liner is warranted to be durable and long-lasting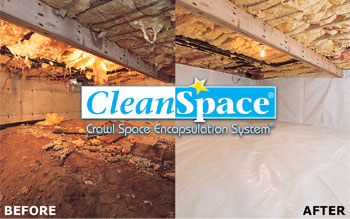 Made from a 20 mil vapor barrier with seven layers of high-density polyethylene, low-density polyethylene, and polyester cord, it comes with a 25-year warranty against damage from normal wear and tear, allowing for access by the homeowner and servicemen without the worry of ripping or damaging the liner.
Once CleanSpace is installed in your home, you'll be able to access the space without worry, using your crawlspace or newly-protected basement as dependable storage space.
CleanSpace perfectly combines function and visual appeal. With a bright white liner, it's easy to see just how clean your liner is. The white color is much more reflective than black or clear crawlspace liners, making the best use of available lighting during access.
A clear WallCap block wall covering makes the top available for inspection by termite and pest contractors without any need to remove the liner. A special antimicrobial additive, UltraFresh, ensures that mold and bacteria growth will not be supported by the liner.
CleanSpace creates a healthier, more energy efficient home
Installing a CleanSpace 20 mil crawl space vapor barrier in your home ensures a healthier, better preserved home. A dry crawl space will not be damaged by mold and moisture, saving you money on eventual expensive repairs. And because moisture and outside air are not dampening your crawl space insulation and bringing their temperatures and humidity into your home, you will benefit from significant energy savings in your home.
All crawl spaces are built differently, that's why we have a large line of crawl space products, designed to address and improve any crawl space problem you're home may be experiencing. We'd like to offer you a free crawl space encapsulation quote, along with our free 88-page full-color book on crawl space issues and how to stop them. To get started, call or contact us by e-mail today!
Looking for a price? Get a no cost, no obligation free estimate.