Clogged Drain Pipe at the Basement Footing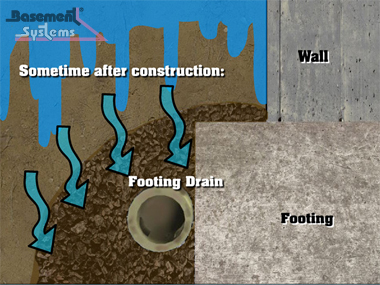 As seen in the picture above, a footing drain rests just outside of a house's foundation. Most often, this pipe is laid in a bed of loose gravel meant to keep dirt from entering. The pipe is thick, with 1/2" spaces in it, and stone is laid on top of it. Occasionally, filter fabric is laid around the pipe to keep particles of soil from entering the pipe.
This sounds like a great system at first, and it generally works for quite some time without a problem. However, what will inevitably happen to the pipe when muddy water brings particles of dirt into the pipe? And if you have a filter installed around the outside of the pipe, what's stopping that filter fabric from clogging with the debris that it's preventing from entering in to the pipe?
The answer is nothing. Unless you want to periodically excavate your yard down to the base of the foundation, ripping out any foliage and gardens around your house as well as porches, steps and anything else laid up against the foundation, leave piles of dirt in your yard, perform maintenance on the pipe, then backfill the soil back against the foundation (once again potentially damaging the foundation as rocks are backfilled and fluffing the backfilled soil again), there's no way to maintain such a system. As this drain clogs more and more, the water problem gets worse and worse.
Looking for a price? Get a no cost, no obligation free estimate.