TrenchDrain™ Basement Entrance Drainage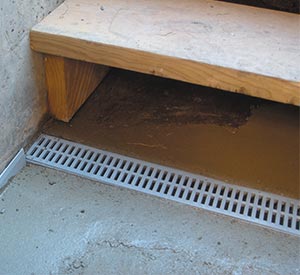 TrenchDrain® Surface Drain Benefits
Effectively captures surface water at stairways, doorways and along other openings.
Rugged reinforced plastic will not crack or dent.
Grated cover can be removed easily to clear drainage channel.
Drain length is flexible to span openings of all sizes.
More Drainage Products:

WaterGuard® System

DryTrak® Drain Tile System
Looking for product pricing?
TrenchDrain™ is only available from a certified installer in your area. Contact us to request an inspection & get a free cost estimate to have it installed in your home.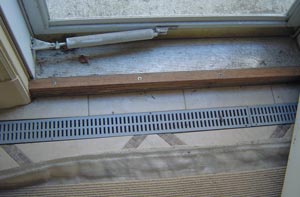 Grate performance. TrenchDrain is installed flush with the floor surface, providing effective drainage in areas where surface water might otherwise cause problems.
Prevents water flooding through the basement door or garage
Capturing surface water is often critical to keep a basement or other area dry. There's no better drainage system for this task than our TrenchDrain® grated drain. TrenchDrain is frequently installed across the base of a basement stairway, or across a doorway into a walk-out basement. It can also be used to prevent surface water from entering a garage. TrenchDrain is easily integrated with WaterGuard® drain lines and other basement drainage systems from Basement Systems.
The TrenchDrain System consists of a drainage channel with a removable, flush-fitting grated cover. Because both parts are made from heavy-duty reinforced plastic, you'll never need to worry about breakage, corrosion, moisture damage or maintenance. TrenchDrain will always work effectively and look good.
In a basement where a radon mitigation system has been installed to lower radon exposure levels, we recommend combining our TrenchLock® air lock drains with TrenchDrain. Made from high-strength plastic, TrenchLock™ inserts are designed to fit in TrenchDrain channel, directly below the removable grate. Cup-shaped recesses are located every 6 inches along TrenchLock™ insert strips, and each recess holds a plastic ball that covers a hole. In "dry" mode, the ball sits in the recess, blocking air movement that can adversely affect the performance of a radon mitigation system. But when water enters the drain, the balls float, allowing water to drain through the holes and into the drainage channel.
Contact the basement waterproofing experts
The best way to prevent water damage in your basement is to keep water out in the first place - TrenchDrain can do just that. Contact the waterproofing experts at Basement Systems for a Free Estimate today!
Our Basement Waterproofing Products
Looking for a price? Get a no cost, no obligation free estimate.