We can Create a Dry Basement in Any Home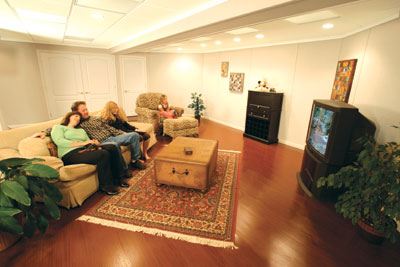 Add dry basement living space to your home.
Many homeowners think that having a dry basement is impossible. They accept this damp, musty and moldy room below their house because they think there is no other way. How can a room that's underground and surrounded by loose soil not get flooded regularly?

It is possible to have a dry basement in your house and to use this extra space to your advantage. Basement Systems can provide high-quality basement waterproofing services for homeowners that are ready for a dry basement.
Dry basements are possible if the proper drainage systems and sump pumps are installed. Loose soil around a foundation easily allows water to flow through and seep into a basement through the porous concrete walls and floor, so a reliable system is necessary to keep the water out. A dry basement also requires a trustworthy system to pump the water out of the basement and away from the house.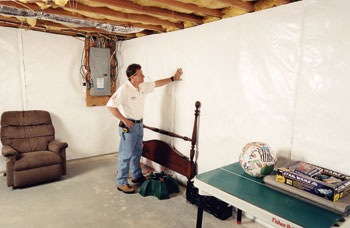 Gain extra dry storage space in your basement.
The Basement Systems WaterGuard drainage system circles the interior perimeter of a basement along the floor to capture any water seeping in. A powerful and reliable sump pump system, such as the TripleSafe sump pump, pumps water out of the house leaving the homeowner with a dry basement. The water can then be flowed away from the house using our RainChute downspout extension.

Our experienced professional basement waterproofing contractors are trained to tackle any wet basement problems for homeowners. Basement Systems has waterproofing dealerships all across the country, as well as in Canada, the U.K. and Ireland. The basement waterproofing contractors in our network offer free basement inspections and estimates to help homeowners get the dry basement they've always wanted!

Give us a call or contact us online today to get your dry basement!
Looking for a price? Get a no cost, no obligation free estimate.