Basement Sump Pump Systems
Innovative features and heavy-duty components ensure a dry basement
Does your sump pump have what it takes to prevent basement flooding, even in severe conditions? Will it still work when there's a power outage? Sump pump systems from Basement Systems are designed to handle the most extreme conditions your home will encounter. You can count on reliable, long-term performance because our sump pump systems combine innovative features with top-quality components.
Advantages of Sump Pump Systems from Basement Systems
Super-durable plastic sump liner provides clean appearance and helps prevent sediment build-up.
Airtight lid improves safety, appearance and compatibility with radon abatement systems.
One-way floor drain in lid allows standing water to drain into sump liner.
Designed for use with WaterGuard® concealed perimeter drain system.
Powerful, premium-quality Zoeller sump pumps easily outperform other models.
Pump stand elevates intake to avoid clogging the pump.
Battery backup capability keeps system operating during power outages.
Improved linear-action float valve won't malfunction like loose string-type valves.
Expert service and spare parts are always available.
Contact the experts in basement waterproofing and repair
Make sure your basement is properly protected year round. Basement Systems' patented sump pumps and quality
basement waterproofing products, installed by one of our certified waterproofing contractors, will help ensure a dry basement. Contact us today to setup an appointment for a Free Estimate!
Don't settle for a second-rate sump pump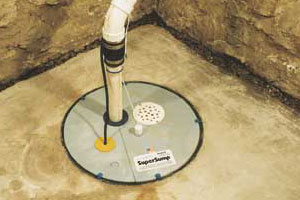 Drag the blue button to the right or left to see the difference a new sump pump can make in your basement!
Many homes still have dirty, open sump pits and underpowered sump pumps. These old-fashioned systems aren't just ugly; they're also prone to all kinds of problems that can cause basement flooding: pump intakes that become clogged with debris and sediment in the sump pit, switches that malfunction and pumps that burn out just when they're needed the most.
Sump pump systems from Basement Systems provide you with the best performance and value, with a finished appearance that you can be proud to show off in your basement. When you install a Basement Systems sump pump system along with one of our patented
perimeter drainage systems, you get a dry basement warranty you can count on for as long as you own your home.
Looking for a price? Get a no cost, no obligation free estimate.