Crawl Space Sump Pump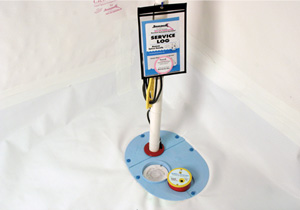 The SmartSump™ crawl space drainage system is specially designed for crawl spaces. It has a lower profile than other pump packages, making installation in tight quarters easier.
At its heart, however, is the same high-quality 1/3hp Zoeller pump used in many of Basement Systems other pump packages.
Innovative Features: Why it's so Smart.
Optional backup pump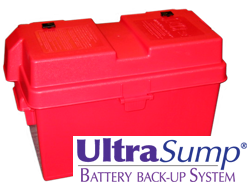 For added protection, your SmartSump™ may be equipped with an UltraSump® Battery Back-up pumping system. The UltraSump® is a second pump that takes over should the primary pump fail or if there is a power outage. The UltraSump® can pump more than 8,000 gallons of water before it needs to be recharged.
The backup's charging system is designed to keep the battery charged and ready for action despite long periods of disuse. An alarm (separate from the WaterWatch® alarm) lets you know when the back-up pump is operating. This allows you to repair or replace the primary pump in a timely manner. If a power outage goes on for several days, homeowners may choose to replace the battery in order to keep their backup pump operating.)
For a free crawl space consultation about the CleanSpace® encapsulation system, contact us today.
If you don't need a sump pump
Many crawl spaces are damp, requiring encapsulation, but are not subject to water infiltration and do require a sump pump and basin. In such situations, Basement Systems recommend its SmartDrain® Plumbing Leak System. It includes a basin and lid (with alarm and one-way drain) but no pump or plumbing.
If there should ever be a leak, water sets off the alarm and drains into the basin liner. The liner, which has holes in its sides and is set in gravel, drains water into the soil under your home until you can repair the plumbing leak.
Looking for a price? Get a no cost, no obligation free estimate.