Exterior basement waterproofing
Coatings can limit water seepage, but they don't guarantee a dry basement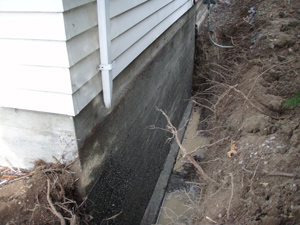 Don't bet on a thin coating. Exterior waterproofing treatments eventually fail because they allow hydrostatic pressure to build up around and under the foundation.
When it comes to treatments that help keep your basement dry, it's impossible to have too much of a good thing. That's why most building codes require new foundations to be coated with an asphalt damp-proofing compound.
A properly applied damp-proof coating can prevent soil moisture from seeping into the concrete wall. But it won't stop a large volume of ground water from leaking into the basement through numerous gaps and cracks in the foundation. Damp proofing does not equal waterproofing.
Exterior membrane moisture barriers come in different forms
For an added cost, some builders offer to apply a waterproofing treatment rather than a damp proofing treatment. This takes more time and skill, and can involve the application of sprayed-on coatings, sheet materials, and even drainage matting. One treatment calls for a thin layer of special clay to be applied as an exterior waterproofing treatment.
All of these exterior basement waterproofing treatments must be carefully applied, and they need to extend not just over the foundation wall, but also down over the footing. The best time for an exterior basement waterproofing treatment is when the house is first built. Installing this type of waterproofing system on an existing house is expensive and disruptive because of the excavation required.
Don't risk a basement flood with a waterproofing system that's bound to fail. Call Basement Systems today 1-800-638-7048 for a free inspection and waterproofing estimate. A typical lifetime warranted waterproofing system can be installed in a single day.
An interior waterproofing system relieves water pressure instead of fighting it
Get The Facts:
An exterior waterproofing treatment…
is often confused with a standard asphalt damp-proof coating.
is best applied during new house construction.
is expensive and disruptive to apply on an existing house.
will not prevent ground water from leaking through basement floor cracks or along the gap between the basement floor and the wall.
Water is heavy –over 60lbs. per cubic foot. Wet weather can put thousands of pounds of hydrostatic (water) pressure on a foundation. Even a tiny hole or gap in a waterproof coating can be the source for a major leak into the basement.
And no exterior waterproofing treatment can prevent ground water from leaking through the gap between the basement slab and the basement wall.
All exterior waterproofing treatments share this critical flaw: they allow water pressure to build up outside and under the foundation. Eventually, this pressure causes leaks into the basement.
As part of our basement waterproofing system, Basement Systems uses an interior drain and sump pump system to relieve water pressure instead of fighting it. When tons of water aren't pushing against the foundation, leakage pressure is minimized. Our patented WaterGuard® drainage system captures water before it reaches the basement floor and conveys it to a sump pump for discharge to the exterior. This waterproofing system is so reliable we can offer a lifetime dry basement guarantee – the best in the business.
Looking for a price? Get a no cost, no obligation free estimate.